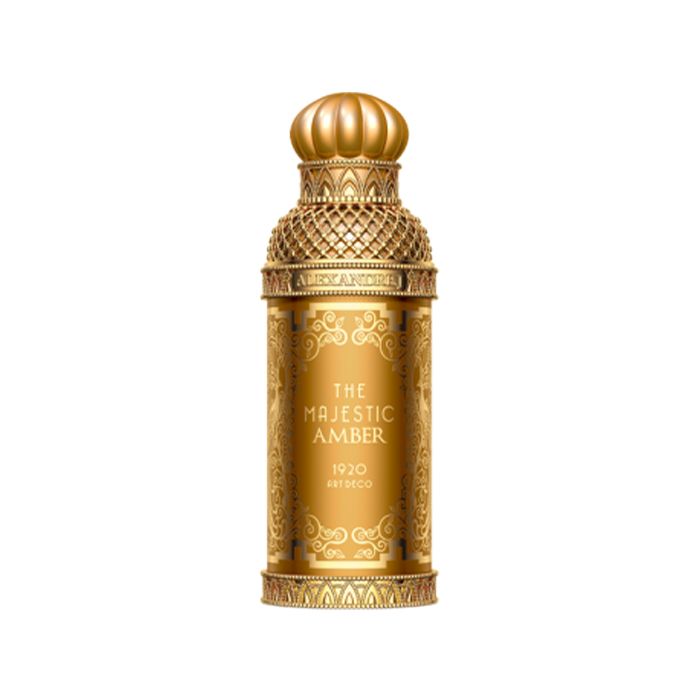 Majestic Amber is a woody floral fragrance present in a beautifully designed golden amber flacon.
Majestic Amber is one of the majestic fragrances in the Art Deco Collection from the Alexandre J family. The art deco collection launched in 2020 - to celebrate 100 years of the predominant decorative style of visual arts, architecture, and design of the 1920s. Majestic Amber is an admiration of The Art Deco era when the great perfume houses launched their first soliflores. Soliflore is the concept of a fragrance replicating the scent of a single flower. All other notes present in the creation complement the main note.
Top Notes: Grapefruit, Peach Middle Notes: Rose, Davana, Tonka bean Base Notes: Amber, Vanilla, Ambroxan, Patchouli, Toffee
Size
100 ML
How To Use
Spray on the body or clothing. Avoid contact with eyes or irritated skin. If occurs, wash with water to clean. Keep away from fire or flame source.
ALEXANDRE.J
ALEXANDRE. J is a French artist who is deeply attached to his country, ALEXANDRE. J also delves into other cultures to find creative avenues that his imagination then turns into new worlds. This dandy likes to share his stories through his words, his notes or his colors. With a thirst for knowledge, he constantly wants to learn. Each new experience is an opportunity for in-depth research, as this perfectionist seeks to understand the techniques used by the artisans so his ideas can take shape.