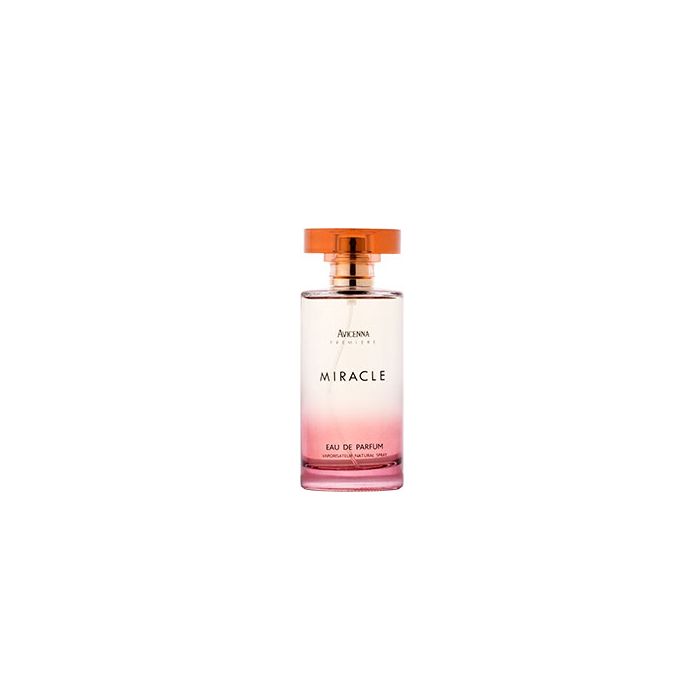 Avicenna Premiere Miracle EDP 100 ml
AVICENNA
A floral - fruity fragrance for women.
Miracle means something that happens beyond any expectation and prediction. Miracle is dedicated to every woman who always kind heated, appreciate her life, full of gratitude, and believe that every second in our life is a miracle.
Top Notes: Lemon, Pear, and Pineapple Middle Notes: Fresh Flowers, Peony and Violet Base Notes: Strawberry, Vanilla and Musk
How To Use
Spray on the body or clothing. Avoid contact with eyes or irritated skin. If occurs, wash with water to clean. Keep away from fire or flame source.
AVICENNA
Avicenna Perfume is a local brand that has a very good quality. Avicenna Perfume is designed by keeping track of the latest fashion trend.
All Reviews
Review

Aku salah satu penggemar produk ini alasan pertama ya karena aku fans berat wangi wangian cake yang manis manis gitu dan produk ini adalah favorit dari beberapa parfume yang aku punya,tahan lama dan keunikan parfume ini membuat aku menjadikan avicenna premiere miracle ini the best sih menurut ku,aku saran ni buat yang suka wangian yang manis ini recommended!! Must try!! Aku belum nemu siih parfume lain seunik ini wanginyaa,senanggggg

Wanginya manishh

Dari botolnya yang cangtip aja penasaran untuk cobain,dan ini wanginya aku banget! Sweet,fruity,floral pokonya cheerful bgt wanginya. Cuma memang agak menyengat sih,dan temenku yang ga suka wangi manis pusing katanya cium wangi ini. Terus cons nya lagi adapah tutup nya gampang bgt copot jd harus hati2 bgt kalau mau ambil parfum ini. Ketahanan nya lumayan banget! Dan semakin akhir wanginya semakin manis

Sangat sangat recommended

parfume yang ini rekomendasi banget deh.. wangi nya sangat sweet banget.. aroma awal sweet gitu setelah itu di ikuti sedikit hangat.. jadi bikin mood relaks pokok nya.. cocok untuk kerja atau juga daily..

review aviciena premiere miracle

Assalamualaikum, selamat sore semuaa...
aku salah satu langgan cnf untuk beli parfum.... ini menjadi fav parfume aku sejak 2018 akhir... aku selalu stock lebih karena wanginya manis tapi gak kayak perment gt dan tahan banget... aku aktivitas dri pagi sampe sore di kampus awet banget....wanginya mirip wangi bunga gitu.... aku recommend bangett buat yg nyobaaaaa beli iniiii....
Related Products