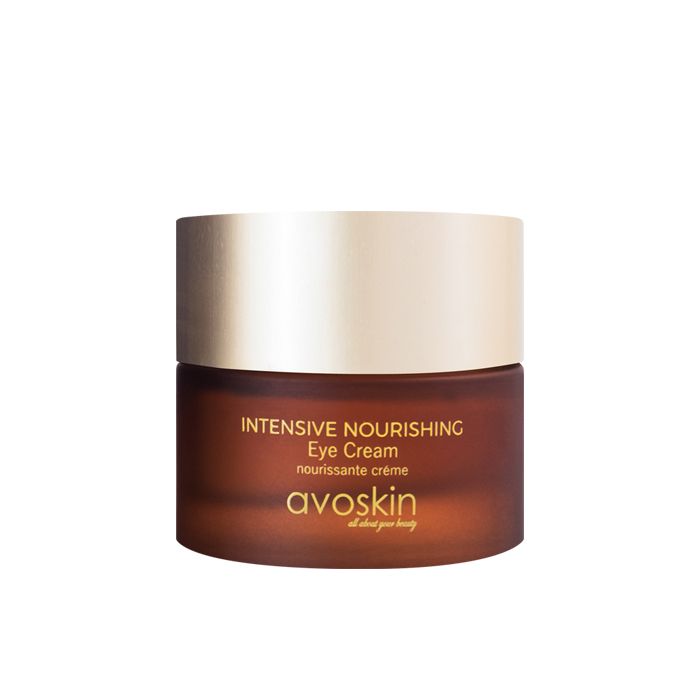 Avoskin Intensive Nourishing Eye Cream
AVOSKIN
Eye creams with the best quality formula that can help moisturize, brighten, and nourish the skin around the eyes. It contains coffee, jicama and cucumber extracts that can effectively reduce eye bags.
Aqua, Ethylhexyl Olivate, Peg-4 Olivate, Phytosteryl/Octyldodecyl Lauroyl Glutamate, Tocopherol, Aloe Barbadensis Leaf Extract, Cucumis Sativus (Cucumber) Fruit Extract, Collagen, Acrylates/Acrylamide Copolymer, Phenoxyethanol, Mineral Oil, Pachyrrhizus Erosus Root Extract, Peg-12 Dimethicone, Coffea Arabica Seed Powder, Macadamia Ternifolia Nut Oil, Algae Extract, Anthemis Nobilis Flower Oil, Tea Tree (Melaleuca Alternifolia) Oil, Hyaluronic Acid, Vitis Vinifera (Grape) Seed Oil, Kojic Acid, Polysorbate 85.
AVOSKIN
Since it was first established, Avoskin is committed to provide the best products from natural ingredients. Realizing ::Pesona Cantik Alami:: (Natural Beauty) is our mission to desire that natural beauty can be obtained by all women.We believe that everyone has the right to get the best essence of natural wealth. Avoskin continues to innovate by cultivating the benefits of sustainable resources supported by advanced technology to produce valuable products for your daily treatment.
All Reviews
Love and Hate, i guess?

Sebenernya aku teracuni sama temen, di dia ini ngaruh buat ngurangin kantung mata gitu. Di aku tuh, gimana ya.. kalau mata panda yg parah bats kek ga tidur semalaman, it helps hydrating. Tapi tu kl yg so so, takes time gitu. Yaaa kl eye cream gini bener2 harus sabar banget sih

Easy to use

Aku punya lingkar mata yang parah banget gelapnya... Dan pake eye cream sehari 2 kali. Sudah berkurang bangets mata pandaku. Awal pemakaian ada cekit cekit dikit yang bikin mata ngantuk, tapi sekarang udah engga

mengandung essential oil

tergantung orang sih produk ini cocok atau engga. tapi kalo aku sih biasa aja ga ada efek yang terlalu keliatan. tapi kalo dari klaim nya eye cream ini memberikan sensasi kesegaran, menjaga kelembapan area sekitar mata sekitar 24 jam. lingkar hitam berkurang sedikittt dan menjaga area kontur mata tetap lembap.

Thankyou, next

Baca review orang-orang kok pada bagus ya? pas pertama kali pake gatau kenapa rasanya jadi panas banget dikulit sekitar mataku :( tekstur nya aku suka sih cuman minus ada minyak yg ga bercampur gitu. sejauh ini hasilnya so so aja sih, cuman melembapkan. Engga begitu berpengaruh juga buat dark circle,puffy eyes,dan garis halus di bawah mata. Bener2 cuma melembabkan. Sad:(
Related Products