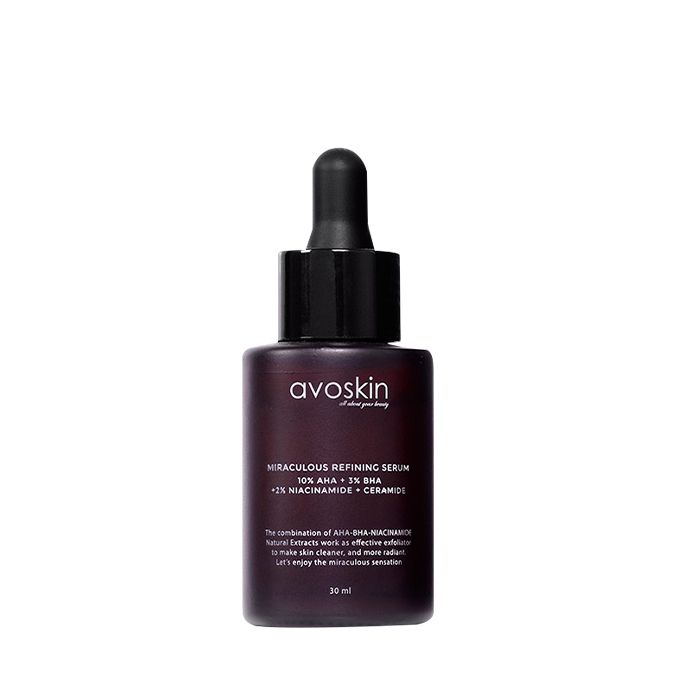 Avoskin Miraculous Refining Serum 30 ml
AVOSKIN
It contains 10% AHA, 3% BHA, 2% Niacinamide and Ceramide which functions to exfoliate and brighten the skin without leaving the effect of the skin becoming dry.
Avoskin Miraculous Refining Serum functions as containing 10% AHA + 3% BHA as an exfoliator agent. The content of 2% niacinamide, ceramide, Polyglutamic Acid plus natural extracts of Raspberry, Aloe Vera, Seaweed, and Chamomile serves to moisturize so that the skin is kept moist after the chemical peeling process.
Water, Propylene Glycol, Glycolic Acid, Niacinamide, Salicylic Acid, Butylene Glycol, Amylopectin, Xanthan gum, Dextrin, Chamomilla Recutita (Matricaria) Flower Extract, Aloe Barbadensis Leaf Juice, Fucus Vesiculosus Extract, Rubus Idaeus (Raspberry) Fruit Extract, Acer saccharum (Sugar Maple) Extract, Portulaca Oleracea Extract, Hydroxypropyl Bisstearamide MEA, Polyglutamic Acid, Tetrasodium EDTA, Sodium Hydroxymethylglycinate, Triethanolamine, Dipropylene Glycol, Behenyl Alcohol, Ceteareth-20, Cholesteryl Isostearate, Tricaprylin, Cetearyl Alcohol, Squalane, Cholesterol, Stearic Acid, Dimethicone, Phenoxyethanol.
How To Use
Apply evenly to the face and neck skin using the fingertips, avoiding the area near the eyes. Avoid contact with the eyes during use. If irritation occurs, stop using it temporarily and it is advisable to consult an expert. Use the product as recommended. Trying to use the product first on certain parts of the face is recommended for owners of sensitive skin. At the beginning of use, it is recommended to be used at night with a maximum frequency of use 3 times a week.
AVOSKIN
Since it was first established, Avoskin is committed to provide the best products from natural ingredients. Realizing ::Pesona Cantik Alami:: (Natural Beauty) is our mission to desire that natural beauty can be obtained by all women.We believe that everyone has the right to get the best essence of natural wealth. Avoskin continues to innovate by cultivating the benefits of sustainable resources supported by advanced technology to produce valuable products for your daily treatment.
All Reviews
Recommended

Hasilnya memang gak instan, tapi pakai ini pelan2 warna dan tekstur kulit jadi lebih merata. Dipakai sehabis cuci muka, diamkan 10 menit, lalu bilas dengan air hangat. Biasanya aku pakai sheetmask kalo lagi exfoliate.

I love it

Good quality, original, good packaging

2 thumbs up

Bingung mau tulis apa saking sukanya sama ini serum, jujur ini acid serum pertama yang aku pernah coba dan lokal pulak hurray..... harga terjangkau, gampang dibelinya & kualitasnya mantap. Teksturnya agak mirip lem cair, atau mungkin karena bau nya juga ya?. Baunya emang gak enak, ya namanya juga acid tapi khasiatnya juaraaaa. Btw untuk yang sensitive apalagi sama acid, prefer coba tonernya dulu ya single use, jangan langsung di layer pake serumnya. Musti pelan2 dulu naik level, aku seminggu awal pake tonernya dulu dan baru berani ngelayer pake serum ini (itupun gak tiap hari, seminggu 2x aja), dan setelahnya jangan lupa layer pake pelembab yang hydrating. Kalau main aman seperti ini dijamin kinclongggg dan ga bakalan over exfoliate

My very first chemical exfoliate serum!

Awalnya beli ini takut siih untu pakenya karena katanya ada yang breakout,cekit2,perih,dan lainnya. Jadi pas awal aku tes di sebelah muka dulu yang emang lumayan rentan bereaksi kalau ada produk yang ga cocok. Dan emng bener ada tingling sensation nya, Terus pas besok paginya,lah begimanaa ini muka halus sebelah

Serum Terfavorite

Setelah cocok sama toner Avoskin yang seri ini akhirnya aku pake serumnya juga. Dan WOW sebagus itu. Dark spot diwajahku mulai samar samar tidak kelihatan. Terus jerawatku jadi jarang muncul karena ada kandungan Salycilic acid buat ngatasin jerawatku. Dan kulit wajahmu tambah keliatan sehat dan lebih terang karena ada kandungan niacinamide. Pokoknya wajib nyoba serum ini. Happy shopping ^_^
Related Products