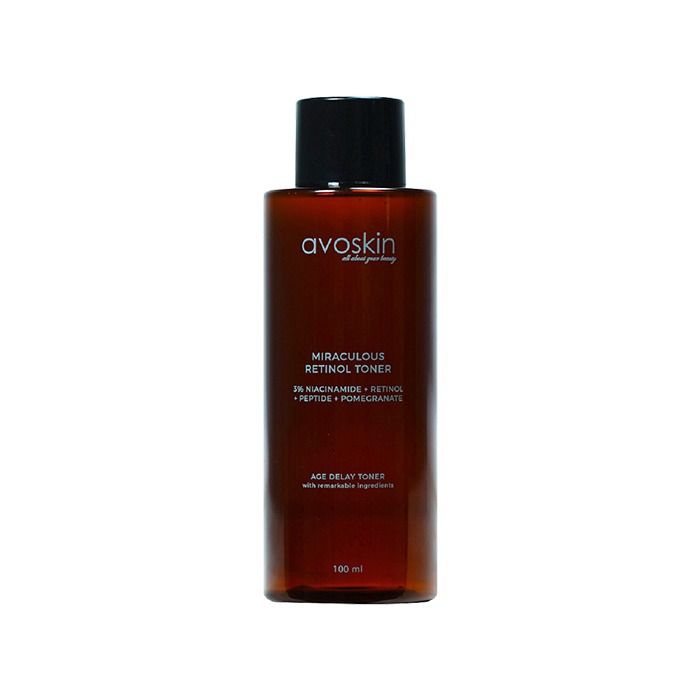 Avoskin Miraculous Retinol Toner 100 ml
AVOSKIN
The newest Retinol Toner from Avoskin that comes with the best ingredients to care for the skin to remain stay young.
Fragrance free, paraben free, & sensitive skin friendly
3% Niacinamide, 1% Actosome Retinol yang mengandung 0.09% aktif Retinol, Peptide dan Pomegranate.
How To Use
Apply to the skin clean and use sunscreen the next day. If arise redness or irritation, adjust the frequency usage. This product can be used every day on evening.
AVOSKIN
Since it was first established, Avoskin is committed to provide the best products from natural ingredients. Realizing ::Pesona Cantik Alami:: (Natural Beauty) is our mission to desire that natural beauty can be obtained by all women.We believe that everyone has the right to get the best essence of natural wealth. Avoskin continues to innovate by cultivating the benefits of sustainable resources supported by advanced technology to produce valuable products for your daily treatment.
All Reviews
Recomended

Heu, seriously enak banget toner ini. Gabisa jelasin apa-apa, intinya enak aja lah

Best Retinol Toner

Senang banget sekarang seri avoskin sudah lengkap di C&F online dan store nya. Ini toner yang saya cari2 di olshop namun sering kehabisan karena se hype itu dong. Sudah pakai semua semua rangkaian seri avoskin dan emang sebagus itu, jadi makin bangga dengan produk lokal. Ayo guys cintai produk2 Indonesia. Terima kasih C&F atas diskon voucher nya dan dapat free ongkir juga. Makin Love ama C&F

bagus banget di kulit aku.

aku cocok pake toner ini dengan kandungan Niacinamide, 0,9% Active Retinol, Peptide dan diperkaya dengan ekstrak buah delima untuk mengurangi garis-garis halus, menjaga kekencangan kulit, dan mencerahkan kulit Anda. Bekerja secara efektif untuk memicu regenerasi sel-sel kulit baru dan secara alami meningkatkan produksi kolagen.
cara pakenya Oleskan ke kulit dalam kondisi bersih dan gunakan tabir surya pada hari berikutnya. Jika kemerahan atau iritasi muncul, sesuaikan frekuensi penggunaan. Produk ini aman untuk digunakan setiap malam.

TONER YANG SEPERTI ESSENCE

Kalau diperhatikan, toner ini agak kental untuk disebut toner. Tapi dia meresap sempurna tanpa jejak kaya toner pada umumnya. Packaging sama ajah yah kaya seri avoskin sebelumnya yang refining toner. Wanginya lembut banget hampir ngga kecium, wangi bedak bayi atau wangi bayi yang baru mandi. Teksturnya kental, ceoat meresap dan dengan hasil akhir matte. Suka banget sih, tonernya beneran nyerep walau agak cekit2 sikit (emang kulitku ajah yang sensitifnya kebangetan

toner fav

Awalnya ragu mw beli ini, tapi membulatkan tekad buat beli akhirnya daannn hasilnya bagus banget di wajah aku. Toner yg ngelembapin banget dan bikin wajah glowing.