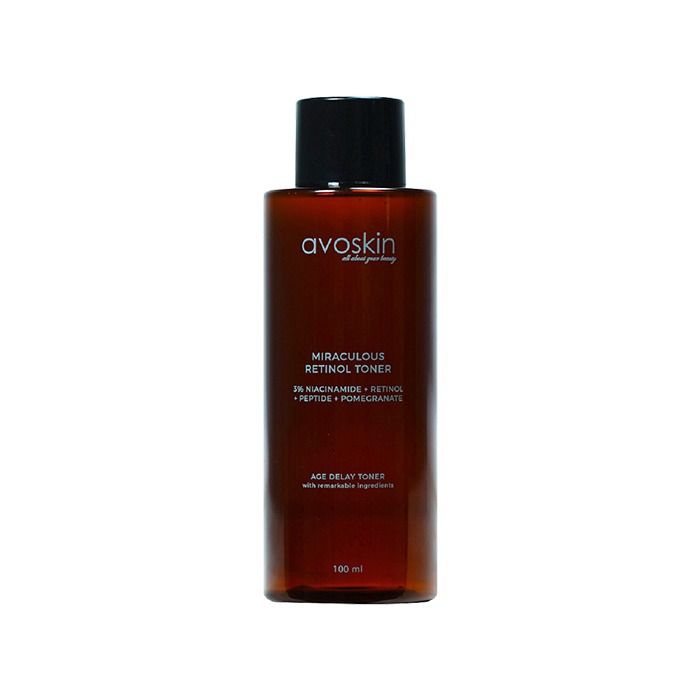 Avoskin Miraculous Retinol Toner 100 ml
AVOSKIN
The newest Retinol Toner from Avoskin that comes with the best ingredients to care for the skin to remain stay young.
Fragrance free, paraben free, & sensitive skin friendly
3% Niacinamide, 1% Actosome Retinol yang mengandung 0.09% aktif Retinol, Peptide dan Pomegranate.
How To Use
Apply to the skin clean and use sunscreen the next day. If arise redness or irritation, adjust the frequency usage. This product can be used every day on evening.
AVOSKIN
Since it was first established, Avoskin is committed to provide the best products from natural ingredients. Realizing ::Pesona Cantik Alami:: (Natural Beauty) is our mission to desire that natural beauty can be obtained by all women.We believe that everyone has the right to get the best essence of natural wealth. Avoskin continues to innovate by cultivating the benefits of sustainable resources supported by advanced technology to produce valuable products for your daily treatment.
All Reviews
MY FIRST LOVE EXFO TONER

Suka bgt! Bikin white heads di hidung dan dagu sedikit hilang kalau abis pake ini,masih belum pake ini setiap hari karena takut iritasi. Bedanya kalau pake ini,muka lehih glowing. Apalagi di campur sama PHTE nya. JUARA UMUM.

Exfo toner lokal

Suka banget sm produk2 avoskin, toner ini pun jd favorit toner untuk exfoliasi wajahku, karena kalau pakai ini sm serum seriesnya, paginya wajah jadi glowing banget. Bikin seneng ngaca...