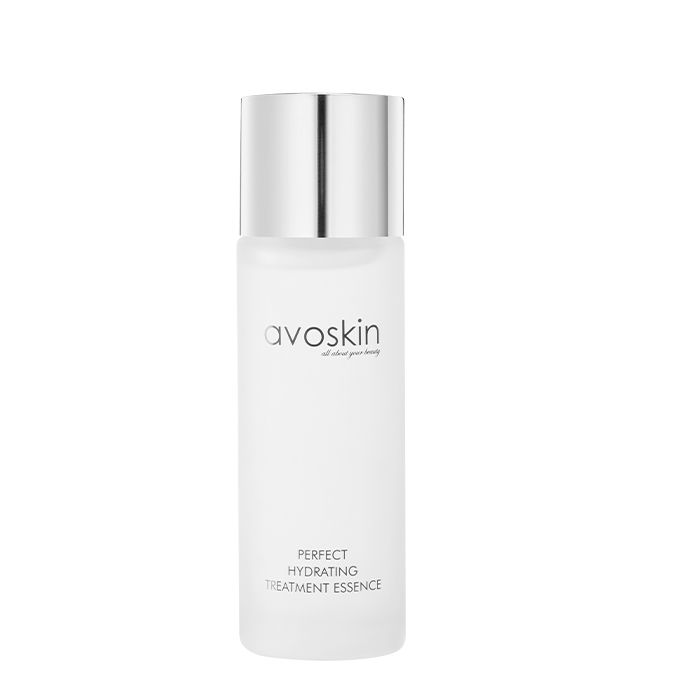 Avoskin Perfect Hydrating Treatment Essence
AVOSKIN
Chamomile oil and 4xs ET-VC are the main formulas in Avoskin PHTE products. These ingredients are useful for moisturizing the skin, brightening, overcoming acne, anti-inflammatory, and as antioxidants.
Aqua, Alcohol, Ethyl Ascorbic Acid, Propylene Glycol, Glycerin, Fragrance, Chamomile (Anthemisnobilis) Extract, Carrot (Daucus Carota Sativa) Oil, Rosa Canina Fruit Oil (Rosehip), Carbomer, Triethanolamine, Mineral Oil.
How To Use
Pour a small amount of Perfect Hydrating Treatment Essence into your palms, and then apply to the entire face and neck to absorb it perfectly. Use it every morning and night after washing your face or using toner.
AVOSKIN
Since it was first established, Avoskin is committed to provide the best products from natural ingredients. Realizing ::Pesona Cantik Alami:: (Natural Beauty) is our mission to desire that natural beauty can be obtained by all women.We believe that everyone has the right to get the best essence of natural wealth. Avoskin continues to innovate by cultivating the benefits of sustainable resources supported by advanced technology to produce valuable products for your daily treatment.
All Reviews
Glowing yang sehat

Salah satu kandungan produk ini adalah Vitamin C, sehingga cukup berefek untuk mencerahkan kulit. Pasca penggunaan pun kulit terasa glowing.

Essence

Awalnya ragu beli essence ini karena ada kandungan alkoholnya, tp setelah dicoba bisa bngt mengatasi bruntusan diwajahku. Jatuh cinta deh sm essence ini

Avoskin phte-kulit kombinasi

Sangat rekomendasi supaya wajah glowing,dan cocok untuk kulit kombinasi.

essence

pakai essence ini awalnya keracunan temen...setelah coba, wow banget hasilnya dong...wajahku jadi lembap dan cerah...bakal restock lagi dong.

Cocok dikulitku yg sedikit rewel

ngelembabinya juarak sih avoskin udah langganan dr dulu, tektusnya yg mudah ngeresep cocok dikulit oilykuu
Related Products
Quick View

AVOSKIN

Avoskin Miraculous Refining Toner

Rp 88,000

-

Rp 185,900

-5%

Quick View

AVOSKIN

Avoskin Hydrating Treatment Essence 100 ml

Out Of Stock