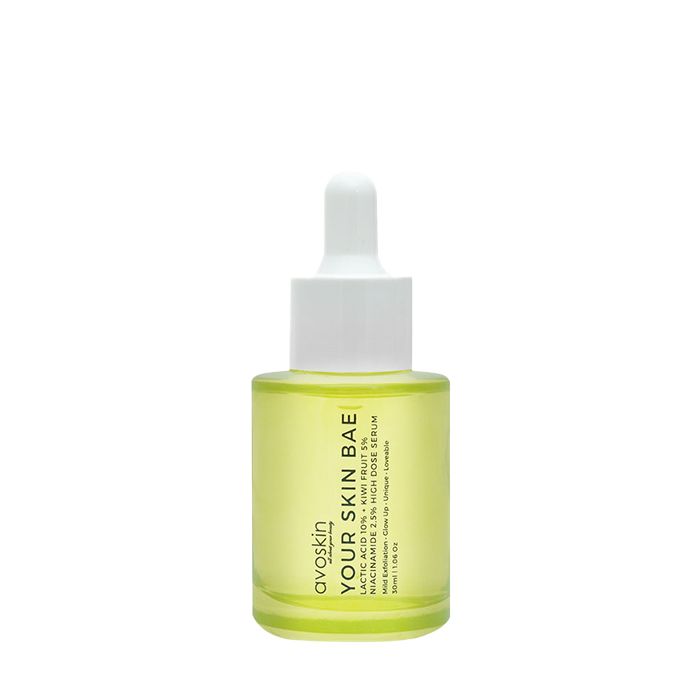 Avoskin Your Skin Bae Lactid Acid 10% + Kiwi Fruit 5% Niacinamide 2,5% 30 ml
AVOSKIN
This serum containing exfoliator and Lactic Acid 10%. It working well to exfoliate well as moisturize the skin.
Combined with Niacinamide which is known to be effective in treating skin barrier and also brightening the skin. The kiwi content in this serum is rich with antioxidants which are good for skin care,
Aqua, L-Lactic Acid, Glycerin, Actinidia Chinensis (Kiwi) Fruit Extract, Biosaccharide gum-1, Butylene Glycol, Niacinamide, NaOH 48% Solution, Butylne Glycol, Hydroxyethyl Cellulose, Phenoxyethanol, Allantoin, Chlorphenesin, Dissodium EDTA, Sodium Bisulfite
Size
30 ML
How To Use
Rub a few drops to the face in the night. Massage skin slowly.
AVOSKIN
Since it was first established, Avoskin is committed to provide the best products from natural ingredients. Realizing Pesona Cantik Alami (Natural Beauty) is our mission to desire that natural beauty can be obtained by all women.We believe that everyone has the right to get the best essence of natural wealth. Avoskin continues to innovate by cultivating the benefits of sustainable resources supported by advanced technology to produce valuable products for your daily treatment.