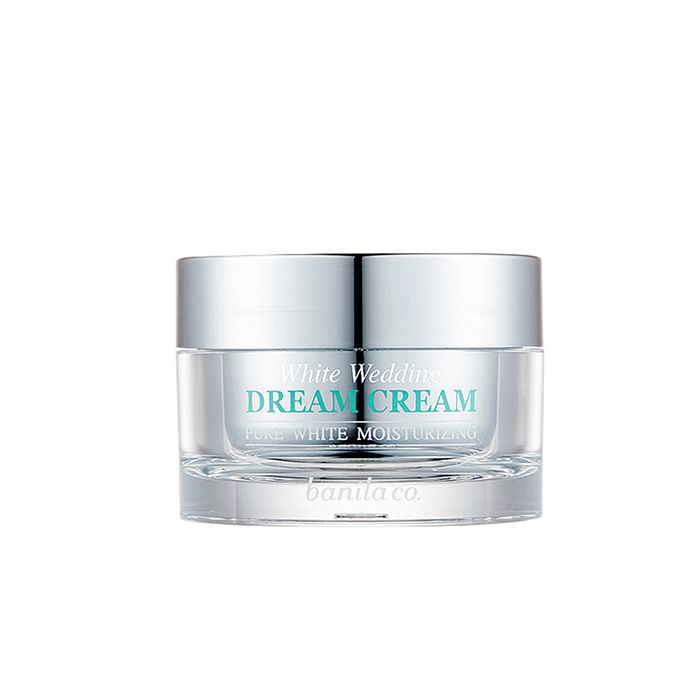 Banila Co White Wedding Dream Cream 50 ml
BANILA CO
Tone-up cream that instantly brightens up the skin to look naturally bright and glowing skin
Moist whitening cream delivers immediate tone-up effect as well as moisturizing care. Micro blooming powder in it provides natural shine and glow without pearl pigment.
Micro Blooming Powder, Hyaluronic Acid, Vitamin C, Vitamin E,
How To Use
Take an adequate amount and evenly apply to your skin
BANILA CO
Banila Co was founded in 2006 to help makeup lovers live all their beauty dreams to the fullest. They believe that gorgeous skin is the first step to a flawlessly fierce face, and that people shouldn't have to sacrifice their complexion for their makeup obsession. So as leaders in K-beauty, they're constantly setting beauty trends through advanced formulas that are simple to use, and makeup designed to work synergistically with everyone's whole skincare routine.
All Reviews
DREAM CREAM

pernah coba punya sepupu waktu nginap sekitar semingguan. aduh work it banget terus juga adem di kulit jadi muka pengen tapi masih menabung dulu maklum dompet mahasiswa

butuh waktu bgt untuk nyerepnya

daoet hibahan dari temen karena katanya di dia terlalu oily. awalnya agak takut siih pas di coba di tangan putih bgt,tapi lama2 emang melt to the skin dan bikin glowing gituu. namanya juga wedding cream kali ya,jd tone up nya kenceng bgt. aku suka pake ini kalau lg males dandan sih,tinggal pake compact powder udah ready~
Related Products