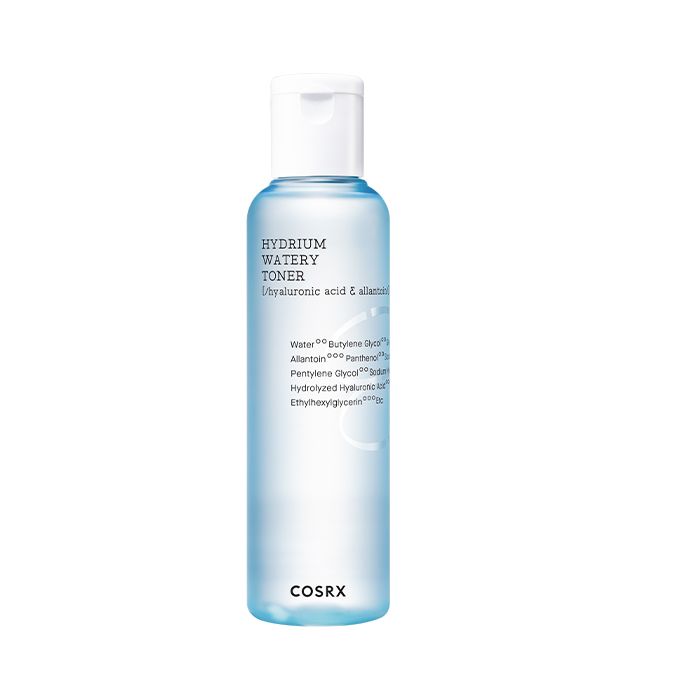 COSRX Hydrium Watery Toner
COSRX
B5, best suited ingredient for all skin types B5 which is known as panthenol is the key ingredient of Hydrium line. B5 has moisturizing, regenerating effect and is safe to use on acne prone skin. Contains only the necessary moisturizing ingredients with 13 ingredients. Skin health recovering toner with Hydrium Synergy-8 Complex Not only it's moisturizing toner but also it's the foundation of skin health recovering skincare step. With Hydrium Synergy-8 Complex which is consist ofsix types of hyaluronic acids, d-panthenol and allantoin, this toner fills up your skin deep with moisture and helps keep hydrated for a long time.
Moisture toner with vitamin B5 and hyaluronic acid which makes your skin more dewy with full of hydration.
Water, Butylene Glycol, Glycerin, 1,2-Hexanediol, Allantoin, Panthenol, Sodium Hyaluronate, Pentylene Glycol, Sodium hyaluronate Crosspolymer, Hydrolyzed Hyaluronic Acid, Hyaluronic Acid, Ethylhexylglycerin, Hydrolyzed Sodium Hyaluronate
How To Use
Apply as the first step of your skincare routine after washing you face. Massage over the entire face for better absorption.
COSRX
COSRX is a Korean skincare brand from South Korea that provides a variety of product range to solve all skin problems including acne, whitehead, blackheads, dull skin, and many other skin issues / conditions. COSRX was founded in 2014 in South Korea and until now, the brand keeps on innovating new products to become the solution to every skin problems. Right now, COSRX is available in many countries worldwide including Indonesia.