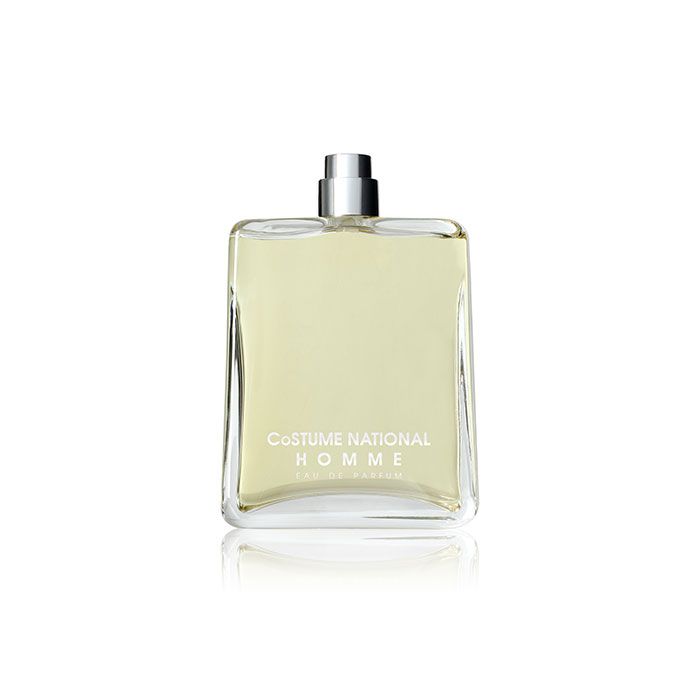 Oriental Spicy Woody Fragrance for Man
A NEW APPROACH TO FRAGRANCE
An original and captivating fragrance for an essential and timeless man with a metropolitan spirit and energetic personality.
Key notes: Cinnamon, patchouli
Top notes: Grapefruit, cardamom, bergamot
Middle notes: Cinnamon, thyme, cloves
Base notes: Patchouli, sandalwood, labdanum
How To Use
Spray on the body or clothing. Avoid contact with eyes or irritated skin. If occurs, wash with water to clean. Keep away from fire or flame source.
COSTUME NATIONAL
CoSTUME NATIONALstyle has been defined "edgy chic" and is a blend of minimalism and Rock & Roll with a very distinctive and iconic slim sensual silhouette. The always-unique materials and cuts are the fruit of the company's on-going research to find symme
All Reviews
Citrusy, fresh aromatic, woody and sweet perfume for man but so good smeel.

Costume National Homme was launched in 2009. But still exist until now. It's good

homme

So Nude Eau de Toilette is described as a graceful and seductive scent that originates as a more ethereal version of So Nude Eau de Parfum. It is the fragrance of a captivating and seductive woman who unveils her femininity.

The fragrance is very fresh, but the notes of ylang ylang, Damask rose and tuberose get more intense to caress the skin with light sensuality and elegant femininity. Cardamom, cedar wood and patchouli enhance the distinctive and intriguing character of the original composition. Certain ingredients were chosen from the prestigious LMR Laboratory in Grass.

The bottle is Ennio Capasa's sculpture reproduced in etched transparent glass.

Great great manly notes fragrance

Costume National Homme opens with a moderate projection of very sweet grapefruit and cardamom notes with a pinch of bergamot. The opening is very pleasant and satisfying. In just a moment the spices and woods are noticeable; the clove and cinnamon are the most prominent spicy accords, whereas, the sandalwood and labdanum join with a slightly sweet and creamy woody accord. The patchouli is a soft and light green touch. The most noticeable change from the opening to the dry down is the fading of the bergamot note. Once Costume National Homme EDP has reached its full dry-down, it can be summarized as a moderate projection, sweet-spicy (clove, cinnamon), and sandalwood fragrance with soft citrus and green accords. The fragrance feels comforting, creamy, delectable, earthy, inviting, more masculine than feminine, modern, playful, spicy, sweet, versatile, warm, woody, and very pleasant.
Related Products