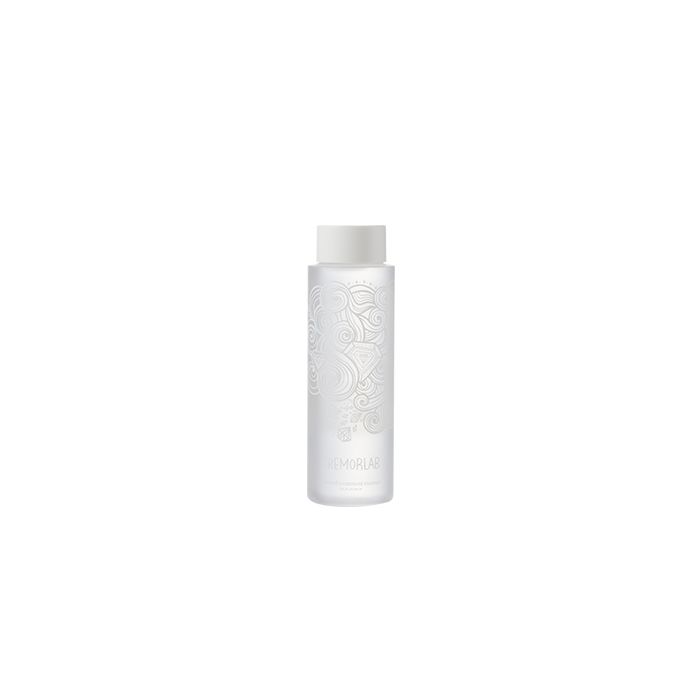 Cremorlab T.E.N Cremor Mineral Treatment Essence 270 ml
CREMORLAB
Hydrates, improves skin texture, tightens pore, brightens skin, reduce wrinkles. The mineral essence brings back the skin s own shine and feeling of moistness and firmness.
Formula Transparent water-type essence is absorbed quickly and deeply into the skin. The water-type essence is quickly absorbed into the skin to help the next-stage product to easily soaked into the skin to make the skin transparent and pliant. Fragrance Natural hot spring water full of minerals from deep inside the earth.
Formulated without Paraben, Benzophenone, Mineral Oil, artificial Color
Skin brightening and anti-wrinkle effect approved by KFDA 33 percent increase in moisture (Clinical Test)
T.E.N 10-mineral crystals, energi pada kulit, oksigenasi, regenerasi kulit, Rose water mengurangi iritasi dan memperbaiki kerusakkan kulit. Chamomile water menenangkan dan memberikan anti-inflamasi. Fermentasi ragi air memperbaiki tekstur kulit
How To Use
Apply Mineral Treatment Essence on a cotton pad or with your hands. With a cotton pad Gently glide saturated cotton pad over face and neck. With your hands Gently press it to the face and neck.
CREMORLAB
Catholic Medical Center joined to create a professional research development team, the Hydro Therapy Research Institute to launch Cremorlab, the cosmetic brand that delivers Geumjin hot spring water as an ideal ingredient for skin. Cremorlab, which combines Cremor with Lab is a natural healing cosmeceutical developed through extensive R&D. Their philosophy is to combine natural energy with research-based scientific development.
Kamu Mungkin Juga Suka
Quick View

THANK YOU FARMER

THANK YOU FARMER True Water Deep Toner

Quick View

BLITHE

Blithe Vital Treatment Essence - 8 Nourishing Beans

Rp 300.000

-

Rp 740.000

-10%

-

-50%

Quick View

BLITHE

Blithe Vital Treatment Essence - 5 Energy Roots 150 ML
Semua Ulasan
mineral treatment essence

Essence ini bagus bgt. Teksturnya cair kya air, pas diaplikasiin di muka bikin muka seger banget. Cocok banget buat kulit combination yg butuh essence bertekstur ringan dan ga bikin muka terlalu lembab dan lengket. Yg dirasain setelah pake essence ini jg bikin muka agak cerah, melembabkan tanpa bkin muka jadi oily dan bener2 yang dirasain muka jadi lebih sehat. Pernah ganti pake essence lain, akhirnya balik lg, krn kalo gapake rasanya kyk ada yg kurang dari step skincare :)

Another first essence gem

Setelah coba berbagai first essence,memberanikan beli yang lumayan high-end gini patungan sama temen. Hasilnya woww bgt sih emang harga ga boong ya. hasilnya lumayan melembapkan tapi nggak bikin overwhelming sama sekali mungkin karena ringan banget ya jadi gampang meresap banget, karena itu aku sering double bahkan triple layer buat nambahin supaya agak2 lebih hydrating. jadi ini cocok banget buat yg mau prakter 5-7 skinlayer ala korea. Cremorlab claim bahwa essence ini ampuh untuk melembapkan, mencerahkan, mengurangi wrinkle dan mengecilkan pori-pori. Tapi memang efeknya agak lama aja sih

My wishlist come true !!

Udah lamaa banget eyeing ini dan beli di cnf pas lagi best price sooo happyy and yaaa this product is very recommended !! Love love cremorlab and cnf