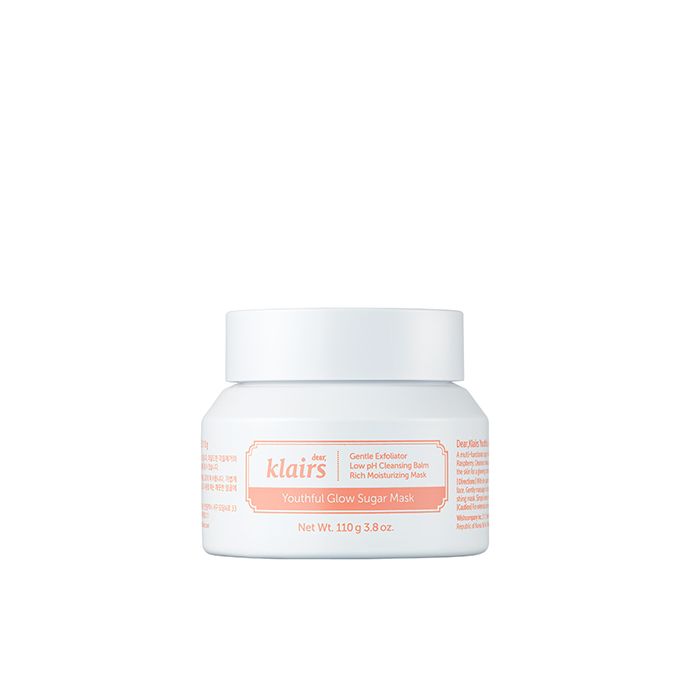 Dear Klairs Youthful Glow Sugar Mask 110 gr
DEAR KLAIRS
3 Way Sugar Mask (Exfoliator, Cleanser, Nourishing Mask):
Mild exfoliator for 'Glass skin': Gently buffs away dead skin cells, dry patches.
Low pH Makeup Cleansing Paste: Dissolves makeup and impurities without tightness or dryness.
Nourishing & Moisturizing Mask: Provides a powerful moisturizing effect while great antioxidants support.
This is a low irritating sugar mask enriched with antioxidants from grapefruit and raspberry. Grapefruit extract and kaolin soften your skin texture without irritation while shea butter, raspberry oil, and jojoba with rich nutrition leave your skin moisturized after washing off. It also contains anti-inflammatory calamine to soothe your skin. This multi-purpose low irritating wash-off mask can also work as a physical exfoliator.
Sucrose, Glycerin, Cetyl Ethylhexanoate, Caprylic/Capric Triglyceride, Butyrospermum Parkii (Shea) Butter, Cetyl Alcohol, Glucose, Citrus Paradisi(Grapefruit) Fruit Extract, Microcrystalline Wax, Glyceryl Stearate, Rubus Idaeus (Raspberry) Seed Oil, Sorbitan Stearate, PEG-100 Stearate, Sorbitan Sesquioleate, Simmondsia Chinensis (Jojoba) Seed Oil, Tocopheryl Acetate, Kaolin, Cellulose, Calamine, Citrus Grandis (Grapefruit) Peel Oil, (-)-alpha-bisabolol, Limonene
How To Use
As an exfoliator:
1) Apply an adequate amount of the Sugar Mask on wet skin after cleansing.
2) Massage gently with your fingers where needs to be exfoliated.
3) Wash off with warm water.
As a wash-off mask:
1) Apply an adequate amount of the Sugar Mask on wet skin after cleansing.
2) Wash off with warm water after 10 minutes rest.
DEAR KLAIRS
Klairs is respectful of the beauty of the environment and carries healthy values regarding the earth. Born from the desire to bring skincare back to its roots and create a line of simple, refined products suitable for people of all skin type while providing high-quality , hypoallergenic skincare products by using only the most necessary ingredients. We make sure our products don't contain components that can irritate sensitive skin.