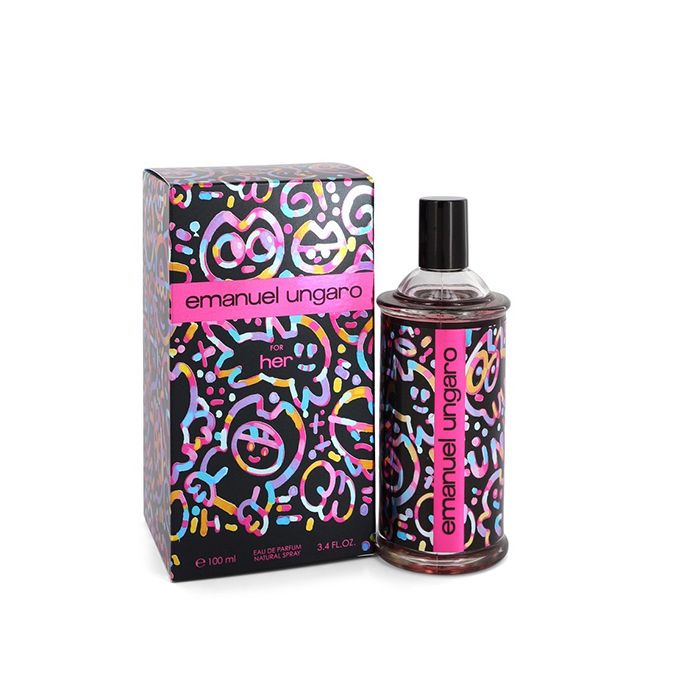 Floral fruity fragrance for woman.
Emanuel Ungaro introduce For her, for a new generation with a contagious desire to communicate themselves: original, young, urban. Colors and strokes are the media, the blank space is the new territory to let the thoughts flow. Take your spray can, express your style, leave your sign!
Top Notes: Almond, Pear and Plum Middle Notes: Tuberose, Orange Blossom and Jasmine Base Notes: Vanilla, Sandalwood, Patchouli and Musk.
How To Use
Spray on the body or clothing. Avoid contact with eyes or irritated skin. If occurs, wash with water to clean. Keep away from fire or flame source.
EMANUEL UNGARO
Emanuel Ungaro is a French fashion designer. His fashions are noted for being elegant and sexy, skillfully draped and often featuring vivid colors and patterns. The women's line sold well and Ungaro added a menswear line in 1973.Today, Ungaro offers clothing for women under the Emanuel Ungaro, Ungaro Fucshia and U by Ungaro labels. Men's clothing labels include Ungaro Homme, U by Ungaro and Emanuel/Emanuel Ungaro. Ferragamo briefly owned a majority stake in the company in the late 1990s/early 2000s, which resulted in the creation of Emmanuel Ungaro Parfums, a testament to the importance of fragrances for the Ungaro brand.