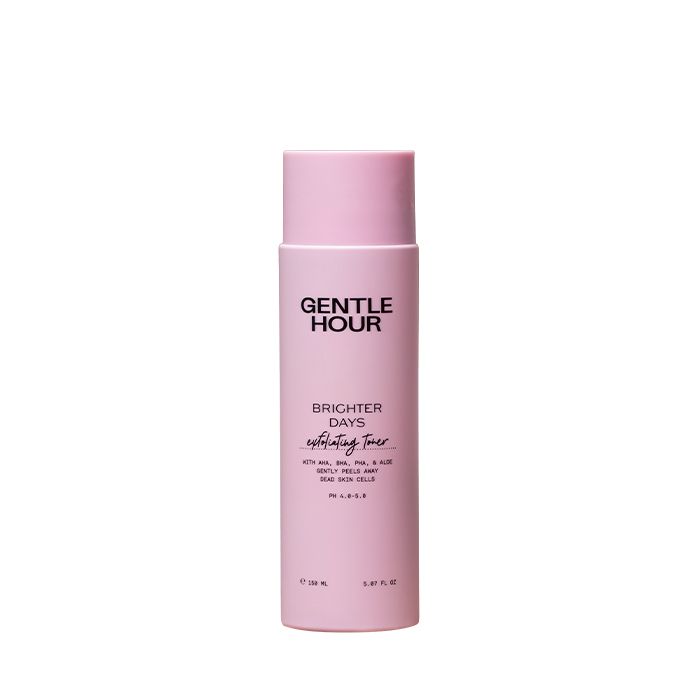 Gentle Hour Brighter Days Exfoliating Toner 150 ml
GENTLE HOUR
Clarify your skin and embrace brighter days ahead with our exfoliating toner. With a balanced combination of Glycolic Acid (AHA), Salicylic Acid (BHA), and Lactobionic Acid (PHA), this formula gently rids your skin of surface impurities— peeling away dead skin cells and purifying pores from excess oil and dirt. But worry not about dryness, this toner packs a powerful blend of moisturizing ingredients such as Aloe to maintain your skin's hydration and comfort so all you'll be left with is fresh and glowing skin all day, everyday.
Water, Butylene Glycol, Niacinamide, 1,2-Hexanediol, Glycerin, Dipropylene Glycol, Phenoxyethanol, Betaine, Octyldodeceth-16, PEG-60 Hydrogenated Castor Oil, Sodium Citrate, Glycolic Acid, Lactobionic Acid, Salicylic Acid, Aloe Barbadensis Leaf Water, Sodium PCA, Caprylyl Glycol, Hydroxyethyl Urea, Ethylhexylglycerin, Citric Acid, Adenosine, Panthenol, Portulaca Oleracea Extract, Allantoin, Caffeine, Melaleuca Alternifolia (Tea Tree) Leaf Oil, Hamamelis Virginiana (Witch Hazel) Extract
How To Use
Usapkan toner menggunakan kapas ke seluruh area wajah dan leher yang telah dibersihkan. Hindari area mata. Gunakan 2-3 kali seminggu, atau tiap hari, tergantung sensitivitas kulit. Kurangi frekuensi penggunaan jika wajah mengalami kemerahan yang berlebihan.
GENTLE HOUR
For years, we were told that flawless and perfectly poreless skin should be the ultimate goal of skin care. However, here at Gentle Hour, we believe that healthy skin looks a little different from one person to another. It might look clear or sometimes slightly oily with the occasional spots, or anything in between, but healthy skin is our skin at its most stabilized state. This is the point where our skin is at its best to deal with external aggressors or breakouts without leaving any lasting damage. Gentle Hour products are created to help keep us and our skin healthy and happy, so we are free to explore the world or even dig deep within yourself to find what truly matters because life should be about more than just worrying about how your skin looks.