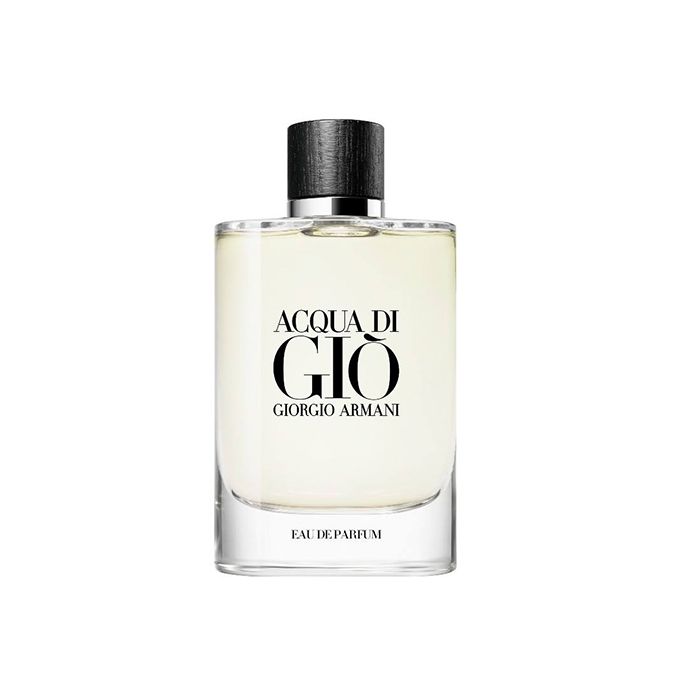 Intense, Aquatic Men's Fragrance.
ACQUA DI GIOval EAU DE PARFUM encapsulates a powerful, long-lasting freshness, where innovative marine notes blend with natural green mandarin, sage, vetiver, patchouli, and a woody mineral dry-down. The infinite horizon of the sea is captured in a new innovative refill bottle. This fragrance for men is for lovers of the classic Acqua Di Giolfaction but seeking something more intense and long-lasting. The Bottle: This elegant full transparent bottle holds an uncolored juice that is powerful yet crystalline. Masculine, essential, elegant. The bottle is topped with a dark wood cap, evoking the balance of architecture and nature. This precious, refillable bottle is designed to last: each format of ACQUA DI GI EAU DE PARFUM 40ml, 75ml or 125 ml can be unscrewed and refilled at home with the 150ml refill bottle sold separately. ACQUA DI GIAval EAU DE PARFUM is a statement of sustainability for the timeless fragrance icon, focusing on 4 key pillars: 1. Eco-conception of the bottle 2. Refill ability in all sizes 3. Natural and sustainably sourced ingredients 4. Forest preservation programs in Guatemala
Top Notes: Marine Notes & Citrus
Boosted by the innovative marines notes, ACQUA DI GIÓ EAU DE PARFUM opens with zesty green mandarin, with this radiant note emblematic of Giorgio Armani's Mediterranean roots.
Middle Notes: Aromatic Essences
Clary sage from Provence, crafted for Giorgio Armani and sustainably harvested, blends with fresh lavandin and geranium from Madagascar.
Base Notes: Woody Mineral
The patchouli from Guatemala, the signature of the fragrance, is sustainably harvested, through solidarity programs supporting local communities. A true concentrate of savoir-faire.
Size
125 ML
How To Use
Semprotkan pada tubuh atau pakaian. Hindari kontak dengan mata atau kulit yang teriritasi. Jika terjadi, cuci dengan air hingga bersih. Jauhkan dari api atau sumber api.
GIORGIO ARMANI
Giorgio Armani is an Italian fashion designer particularly noted for his menswear. Armani started his career as designer of shop-windows in a department store and worked his way up to menswear buyer.The brand expanded throughout the late 1970s and early 1980s, offering a variety of collections in different price points, jeans, undergarments, accessories, and through an agreement with L'Oreal, fragrances and beauty products.
Kamu Mungkin Juga Suka