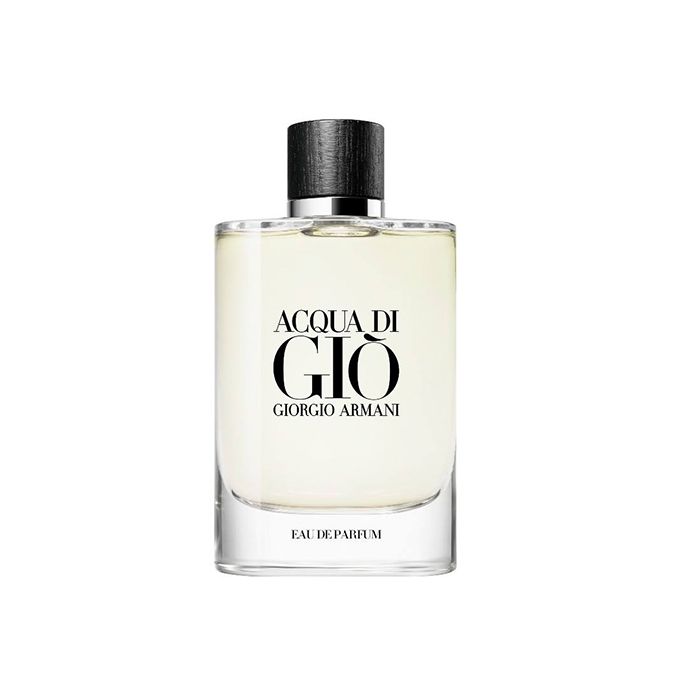 Intense, Aquatic Men's Fragrance.
ACQUA DI GIÒ EAU DE PARFUM encapsulates a powerful, long-lasting freshness, where innovative marine notes blend with natural green mandarin, sage, vetiver, patchouli, and a woody mineral dry-down. The infinite horizon of the sea is captured in a new innovative refill bottle. This fragrance for men is for lovers of the classic Acqua Di Giò olfaction but seeking something more intense and long-lasting. The Bottle: This elegant full transparent bottle holds an uncolored juice that is powerful yet crystalline. Masculine, essential, elegant. The bottle is topped with a dark wood cap, evoking the balance of architecture and nature. This precious, refillable bottle is designed to last: each format of ACQUA DI GIÒ EAU DE PARFUM – 40ml, 75ml or 125 ml – can be unscrewed and refilled at home with the 150ml refill bottle sold separately. ACQUA DI GIÒ EAU DE PARFUM is a statement of sustainability for the timeless fragrance icon, focusing on 4 key pillars: 1. Eco-conception of the bottle 2. Refill ability in all sizes 3. Natural and sustainably sourced ingredients 4. Forest preservation programs in Guatemala
Top Notes: Marine Notes & Citrus
Boosted by the innovative marines notes, ACQUA DI GIÓ EAU DE PARFUM opens with zesty green mandarin, with this radiant note emblematic of Giorgio Armani's Mediterranean roots.
Middle Notes: Aromatic Essences
Clary sage from Provence, crafted for Giorgio Armani and sustainably harvested, blends with fresh lavandin and geranium from Madagascar.
Base Notes: Woody Mineral
The patchouli from Guatemala, the signature of the fragrance, is sustainably harvested, through solidarity programs supporting local communities. A true concentrate of savoir-faire.
Size
125 ML
How To Use
Fragrance is intensified by the warmth of your own body. Apply in the creases of your knees and elbows for a longer-lasting, stronger scent.
-After applying, avoid rubbing or dabbing skin. This breaks down the fragrance, causing it to wear off more quickly.
-If you prefer placing fragrance on your wrists, be sure to reapply after frequent hand-washing, as this tends to rinse off the scent.
-Replace fragrance after 12 months. Expired perfumes more than a year old lose the integrity of the original scent.
How to Use 150ml Refill:
1. Twist off cap and remove the spray applicator
2. Take the refill bottle and fill into the desired fragrance bottle
3. Re-screw the spray applicator and cap back on.
GIORGIO ARMANI
Giorgio Armani is an Italian fashion designer particularly noted for his menswear. Armani started his career as designer of shop-windows in a department store and worked his way up to menswear buyer.The brand expanded throughout the late 1970s and early 1980s, offering a variety of collections in different price points, jeans, undergarments, accessories, and through an agreement with L'Oreal, fragrances and beauty products.