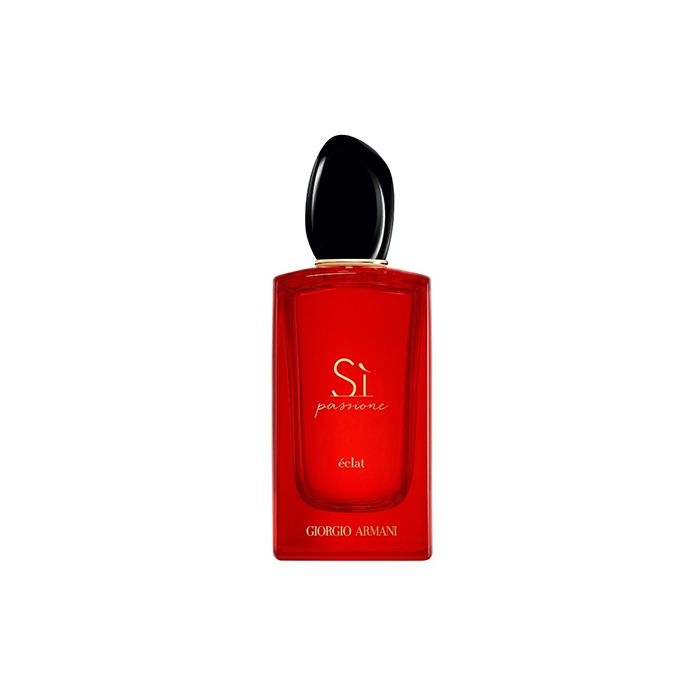 A bold and radiant perfume for women, a Floral Fruity fragrance. Si PASSIONE Eclat de Parfum's flacon gleams like a precious stone, a nod to the way passion can light up one's life, with a fiery, ruby-red hue revealed as the bottle catches the light.
Discover Si Passione Eclat Eau de Parfum, the passion-infused bold and radiant perfume for women that encourages you to reveal your inner strength. A fragrance with a captivating invitation to light up your life with passion. A beautiful encounter between a bright Blackcurrant accord and the enveloping Bergamot, empowered by two roses – Centifolia and Damascena - that bring generous femininity and character.
Top Notes: Bright Blackcurrant Accord & Bergamot
Si PASSIONE Eclat de Parfum combines a bright blackcurrant accord with bergamot sustainably sourced from Calabria, Italy, and crafted for Giorgio Armani to lend another element of effervescent lightness to the scent.
Middle Notes: Centifolia & Damascena Roses
The Centifolia rose, picked by hand in France's Grasse region, boasts a soft, powdery quality. The Damascena rose, sourced via sustainable and responsible processes, hails from Isparta, Turkey's "city of roses", and exhibits the generous, feminine, and characterful aspects of the flower.
Base Notes: White Musks & Vanilla Infusion
White musks impart a clean, soft, and sensual quality, while a vanilla infusion from Madagascar, sourced through a sustainable and responsible program designed to support local communities, brings an enveloping effect that is at the same time addictive and spicy.
Size
100 ML
How To Use
Spray on the body or clothing. Avoid contact with eyes or irritated skin. If occurs, wash with water to clean. Keep away from fire or flame source.
GIORGIO ARMANI
Giorgio Armani is an Italian fashion designer particularly noted for his menswear. Armani started his career as designer of shop-windows in a department store and worked his way up to menswear buyer.The brand expanded throughout the late 1970s and early 1980s, offering a variety of collections in different price points, jeans, undergarments, accessories, and through an agreement with L'Oreal, fragrances and beauty products.