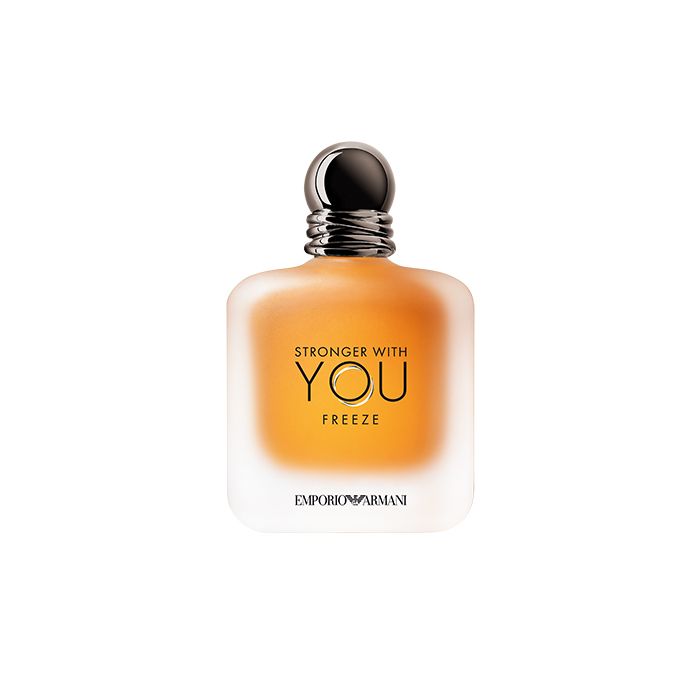 A fresh, radiant, clean yet seductive fragrance for him for everyday use.
Stronger With You Freeze, a fresh, radiant and clean fragrance for men by Emporio Armani, captures the seductive energy of the man who lives in the present with distinct, elegant freshness. Urban, dynamic and contemporary.
Stronger With You Freeze is a new fresh interpretation of our iconic Stronger With You aftershave.
""Live in the present, as the present moment is always the happiest one"" - Giorgio Armani. A celebration of life and togetherness, Stronger With You Freeze seizes each instant, freezing the moment to make it last.
Stronger With You Freeze is a citrusy, woody, fougere fragrance opens with fresh notes of lime that develop into an elegant heart of clean sage and enveloping lavender, lingering with a masculine woody amber accord.
The bottle is molded around clean lines with decisive curves recalling masculine shoulders. The refined glass is now frosted, as if forever frozen in time. The union of Stronger With You Freeze for men and In Love With You Freeze for women creates a balanced and irresistible couple, empowered by two strong individuals. Together stronger.
Lime, Lavender & Sage, Ambery Woods
How To Use
Apply on pulse point: wrist, inner elbow and neck.
GIORGIO ARMANI
Giorgio Armani is an Italian fashion designer particularly noted for his menswear. Armani started his career as designer of shop-windows in a department store and worked his way up to menswear buyer.The brand expanded throughout the late 1970s and early 1980s, offering a variety of collections in different price points, jeans, undergarments, accessories, and through an agreement with L'Oreal, fragrances and beauty products.
All Reviews
Wangi "seger" yang aku suka

Wanginya cocok bgt buat summer time gitu. Seger jeruk tapi ada lavendernya. Dan bikin kesan jadi cheerful gitu. Pake ini kl lagi bosen sama wangi manisss