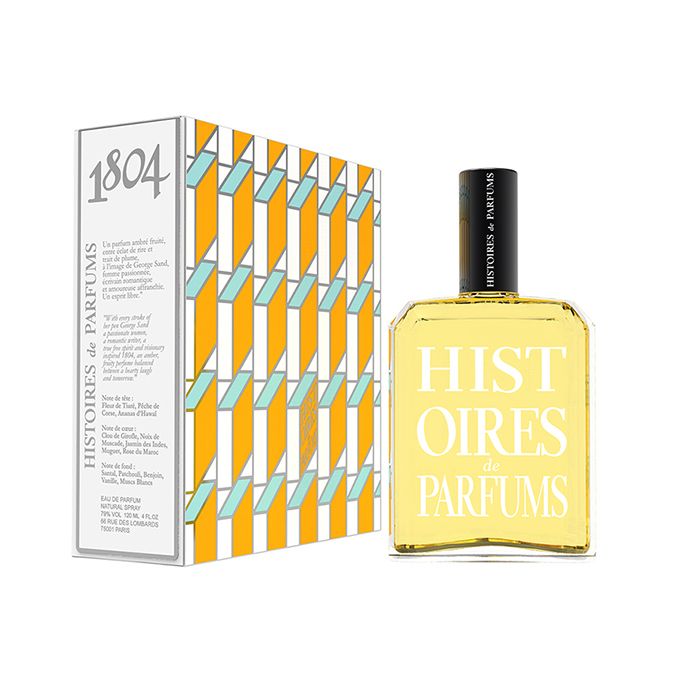 An Amber Flower bouquet, in remembrance of George Sand's bond uniting her with nature, warmed with heady Spices and colored by sweet Fruits.
GEORGE SAND
She was to become renowned through her androgynous pen name, George Sand. A writer of genius, great lover and committed, she was the incarnation of the first modern woman. For her contemporary heiresses, a perfume reflecting her generosity and sensuality.
Key notes: Pineapple, Indian Jasmine, Tahitian Gardenia
Top notes: Tahitian Gardenia, Corsica Peach, Hawaiian Pineapple
Middle notes: Clove, Nutmeg, Indian Jasmine, Lily of the Valley, Rose of Morocco
Base notes: Sandalwood, Patchouli, Benzoin, Vanilla, White Musk
How To Use
Spray on the body or clothing. Avoid contact with eyes or irritated skin. If occurs, wash with water to clean. Keep away from fire or flame source.
HISTOIRES DE PARFUMS
HISTOIRES de PARFUMS An olfactive library that is telling stories about famous characters, mythical years, poems and music. The collection created by Gerald Ghislain is governed by no rules other than inspiration. With his luxuriant imagination, this loquacious individual has chosen to bring his stories to life in perfumes, a sensitive and sensual medium. Histoires de Parfums releases its fragrances in a Deluxe edition to be read on skin.
Kamu Mungkin Juga Suka
Enter OTP Code
We have sent an OTP code to Please enter the verification code to continue. Wrong number?
Choose Email
Seems that you already registered at our offline store with this email: