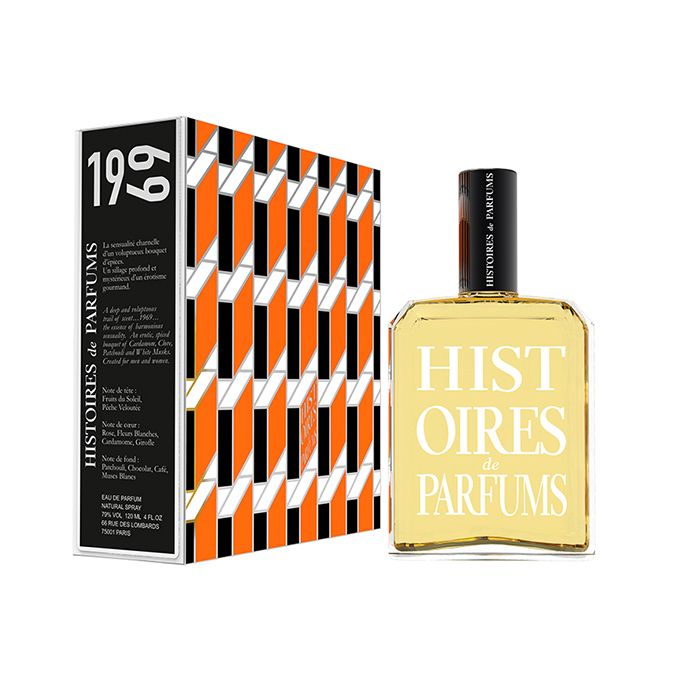 1969, an erotic year…this perfume represents the sexual revolution and evokes an intense sensuality, accentuated by White Musk and intense Chocolate.
The carnal sensuality of a voluptuous bunch of Spices. In the trail of this oriental gourmand, mystery is tinted with eroticism that the mythical year of 1969 evokes without a blush.
Key notes: Fruits of the sun, White Flowers, Chocolate
Top notes: Fruits of the Sun, Peach.
Middle notes: Rose, White Flowers, Cardamom, Clove
Base notes: Patchouli, Chocolate, Coffee, White Musk
How To Use
Spray on the body or clothing. Avoid contact with eyes or irritated skin. If occurs, wash with water to clean. Keep away from fire or flame source.
HISTOIRES DE PARFUMS
HISTOIRES de PARFUMS An olfactive library that is telling stories about famous characters, mythical years, poems and music. The collection created by Gérald Ghislain is governed by no rules other than inspiration. With his luxuriant imagination, this loquacious individual has chosen to bring his stories to life in perfumes, a sensitive and sensual medium. Histoires de Parfums releases its fragrances in a Deluxe edition to be read on skin.
Related Products