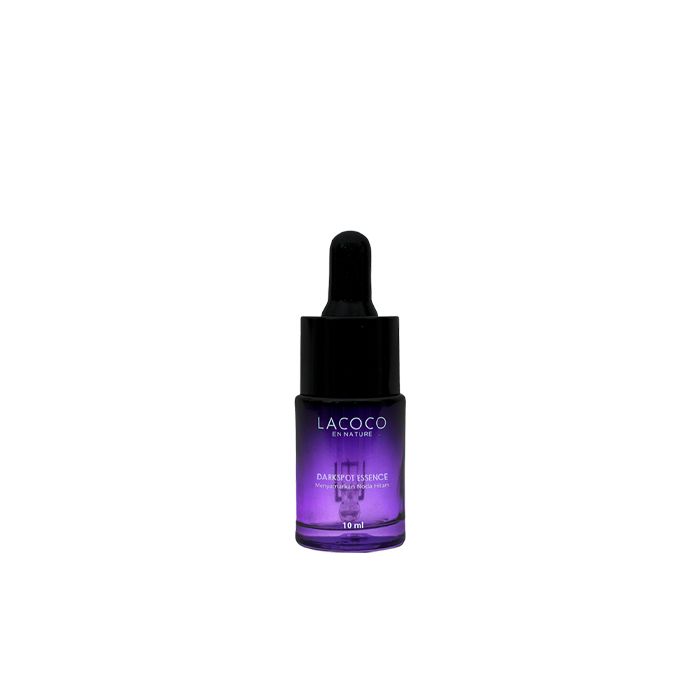 Lacoco Dark Spot Essence 12 ml
LACOCO
Dark Spot Essence is an essence to use every night to improve skin condition. Formulated with a combination of the best ingredients from nature with active ingredients that have been clinically tested, Dark Spot Essence can help keep the skin healthy, and reduce the appearance of dark spots.
Dark Spot Essence contains mulberry and licorice which have high antioxidants and natural face brightening agents. Dark Spot Essence is also equipped with carrot extract, which is rich in vitamin A, vitamin E, carbohydrates, and protein, which are useful for moisturizing skin.
Dark Spot Essence is also equipped with the following active ingredients:
- Gycolic acid (AHA) 5%
- Niacinamide 3%
- Salicylic acid (BHA) 1%
- Gluconolactone (PHA) 2%
- Tranexamic acid 2%
Water, Propylene Glycol, Glycolic Acid , Niacinamide, Glycerin, Gluconolactone, Tranexamic Acid, Salicylic Acid, Xanthan gum, Morus Alba Fruit (Mulberry) Extract, Daucus Carota Sativa (Carrot) Root Extract, Butylene Glycol, Sodium Hydroxymethylglycinate, Aloe Barbadensis Leaf Extract, Glycyrrhiza Uralensis (Licorice) Root Extract, Tetrasodium EDTA, 1,2-Hexanediol.
How To Use
Use 4 drops after toner. Use it at night. Apply sunscreen the next day before activities.
LACOCO
Lacoco brings beauty products from the best natural ingredients. Every product is made from high quality natural ingredients so everyone can have a youthful, healthy and beautiful skin.