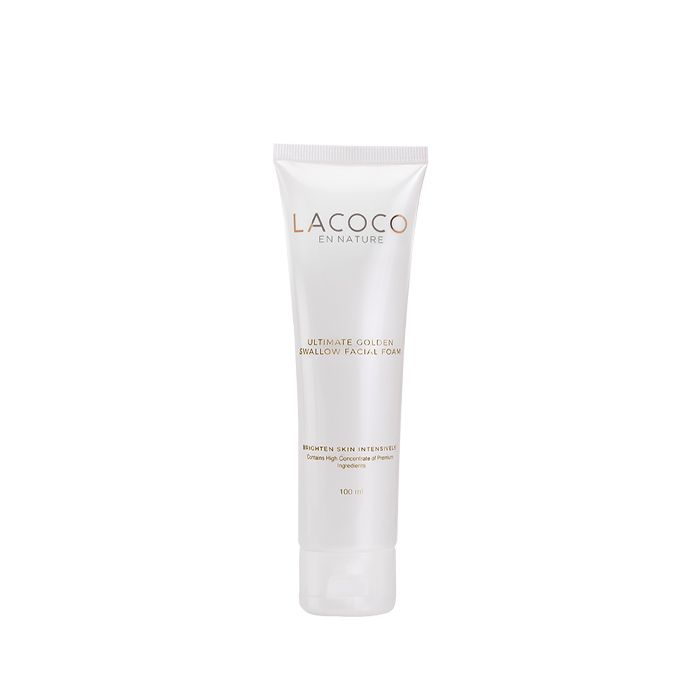 Lacoco Ultimate Golden Swallow Facial Foam 100 ml
LACOCO
Ultimate Golden Swallow Facial Foam is a facial foam cleanser to help remove dirt, pollution, and make-up residue from skin.
The foam texture will optimally cleanse skin, without reducing the skin moisture. Ultimate Golden Swallow Facial Foam has the swallow nests as the main ingredient that helps improve the elasticity of facial skin. By having more elastic skin, skin will look healthier, supple, and also younger. Another ingredient is Biosulfur functioning as a deep-pore cleanser to make the skin clean and free from clogged pores. Biosulfur can also help prevent acnes.
Water, Myristic Acid, Potassium Hydroxide, Glycerin, Lauric Acid, Stearic Acid, Sodium Cocoyl Glycinate, Acrylates Copolymer, Propylene Glycol, PPG-2HydroxyethylCocamide, Acrylamide, Glycol Distearate, Sodium Cocoate, DADMAC, Laureth-4, Aloe Barbadensis Leaf Juice, Spirulina Platesis Extract, Sodium Chloride, Sulfur, Butylene Glycol, Cocamidopropyl Betaine, PEG-40 Hydrogenated Castor Oil, Sodium Hydroxymethylglycinate, Tetrasodium EDTA, Fragrance, Swiftlet Nest Extract, Maltodextrine, Mica, Agar, Acacia Senegal Gum, CI 77891 (Titanium Dioxide), CI 77491, CI 77861, Potassium Acetate, Sodium Acetate
How To Use
Wet face, pour a pea-size amount of facial foam, and mix with water until it foams up. Apply the facial foam evenly and gently massage the foam onto the skin in circular motions. Rinse with water until it is clean.
LACOCO
Lacoco brings beauty products from the best natural ingredients. Every product is made from high quality natural ingredients so everyone can have a youthful, healthy and beautiful skin.