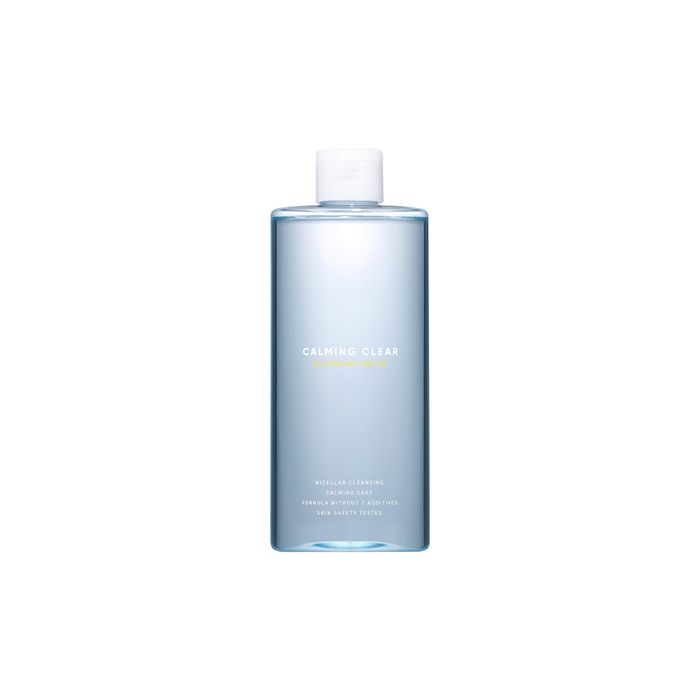 Leaders Calming Clear Cleansing Water 400 ml
LEADERS
Moist & refreshing hypoallergenic no-wash cleansing water
Moist and refreshing type of mild cleansing water that deeply cleanses skin wastes and point makeup
- Mild cleansing without irritation with natural cleansing agents
Light water type with no sticky finish after cleansing
Maintains a moist skin moisturizing film with a weakly acidic base of pH similar to that of healthy skin
Skin safety test completed
7 preservatives not added
(Methylparaben, Ethylparaben, Propylparaben, Isopropylparaben, Bytulparaben, Isobutylparaben, Phenoxyethanol)
Quintuple Miscella
A new concept Quintuple Miscella structure in which five natural surfactants are formed into nano sized-small micelles. In addition to being used for point makeup, it also provides optimum cleansing effect by removing wastes from the skin completely.
Centella-Calming Complex
A complex that consists of six soothing & protective ingredients to protect the damaged and sensitive skin caused by the external harmful environments
Ingredients extracted from Centella Asiatica Leaf/Stem : Madecassic acid, Asiatic acid, Asiaticoside
Calming Complex : Panthenol, Madecassoside, Allantoin
How To Use
After dousing a cotton pad with the appropriate amount, gently wipe the entire face to rub off the makeup.
* At an area where you need careful cleansing, leave the cotton pad on for a while and then wipe it off.
*You don't need cleanse again, but you can wash your face with lukewarm water as needed.
LEADERS
Leaders Cosmetics is a professional cosmeceutical company with over 10 years of experience in the global skin care industry. Leaders is the #1 seller of sheet masks in the world, founded by skilled dermatologists from Seoul National University in South Korea. Their aim is to help women and men restore their self-confidence through beautiful, glowing and healthy skin.
All Reviews
light bgt

aku lupaa bgt tau ini dari siapa,tp dari salah satu influencer. ini bagus bgt gaada wangi dan gak berat di muka. efektif bgt buat hapus daily makeup.
Related Products