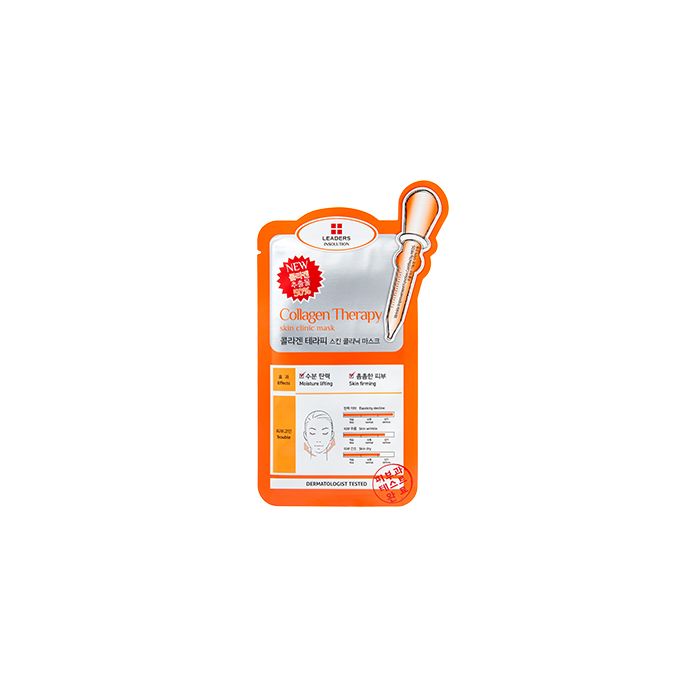 Leaders Insolution Skin Clinic Collagen Therapy Mask 25 ml
LEADERS
Real Collagen Mask infused with 50 % collagen ingredients.
Recommended for: - Skin that needs elasticity improvement- Skin that has decreased in elasticity and has begun to show fine lines- Skin that lacks moisture and nourishmentReal Collagen for 50 % concentration: A firming mask, containing high concentrated peptide, collagen improves the appearance of fine wrinkles, skin elasticity while leaving skin healthy and supplePowerful Anti-Wrinkle Mask: Synergy effects between Ulthera Palmitoyl Tripeptide-5 and Adenosine deliver dramatic anti-wrinkle effects. Collagen, improving skin density maximizes firming and lifting effect while keeping a younger look
How To Use
1. Remove the mask from sachet and gently unfold.2. Attach the mask to the cleansed face, fitting it to fit the curves around the eyes, nose, and mouth.3. Leave on for 15-20 minutes and then remove it. Gently pat the face with fingertips until the remaining serum is completely absorbed.
LEADERS
Leaders Cosmetics is a professional cosmeceutical company with over 10 years of experience in the global skin care industry. Leaders is the #1 seller of sheet masks in the world, founded by skilled dermatologists from Seoul National University in South Korea. Their aim is to help women and men restore their self-confidence through beautiful, glowing and healthy skin.