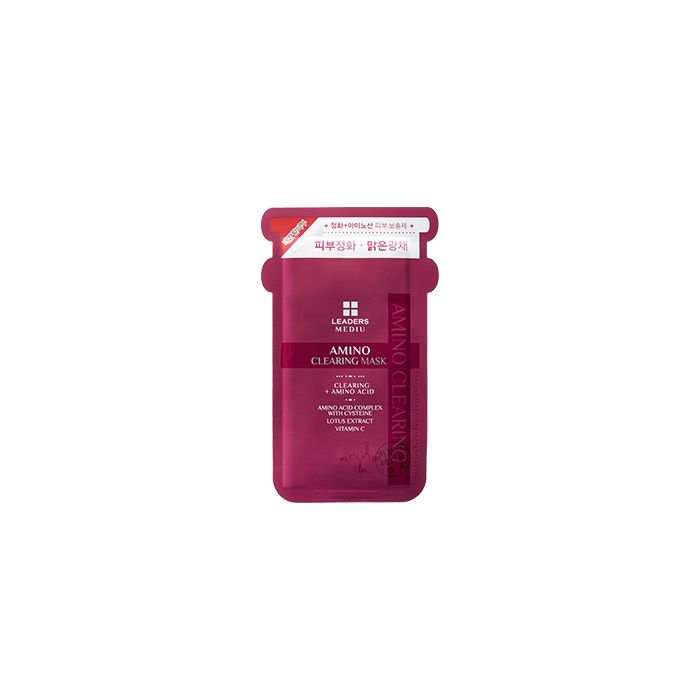 Leaders Mediu Amino Clearing Mask 25 ml
LEADERS
A daily mask that creates a clean and clear complexion using moisturizing factor and vitamin C supplement ingredients combined with 17 different amino acids.
Recommended for:
Dull skin, dark circles, blemishes, freckles
Dark skin tones, dull skin due to age
The moisturizing factor of amino acids replenish the skinAn amino acid composition containing 17 kinds of essential ingredients to replenish skin moisture and elasticity, help to calm and balance the overall skin condition. The underlying natural moisturizing factor of healthy skin is protected.
To enhance the long-term moisture in the skinMineral water is a natural moisturizing ingredient that helps to balance the skin moisture using rich minerals and hyaluronic acid. Ceramide locks in the moisture for long-term hydration.
Removes old keratin to smoothen the skin textureThe active ingredients help to create soft, moist skin by removing unnecessary keratin to help the absorption of moisture. As a result, elasticity is improved and rough skin is repaired.
How To Use
1. Setelah membersihkan wajah dan aplikasi toner. Lepaskan masker dari kemasan dan secara lembut buka lipatan masker dan aplikasikan pada wajah sesuaikan pada area hidung, mata dan mulut.
2. Diamkan selama 15-20 menit, lalu angkat. Secara lembut tepuk-tepuk untuk membantu penyerapan essence .
LEADERS
Leaders Cosmetics is a professional cosmeceutical company with over 10 years of experience in the global skin care industry. Leaders is the #1 seller of sheet masks in the world, founded by skilled dermatologists from Seoul National University in South Korea. Their aim is to help women and men restore their self-confidence through beautiful, glowing and healthy skin.
Kamu Mungkin Juga Suka
Semua Ulasan
lovvv

Essencenya agak kental dan lumayan banyak, cukup sampai leher. Selama dipakai tidak bikin gerah dan tidak melorot2 sheet nya. Muka bersih dan plumpy setelah pakai.