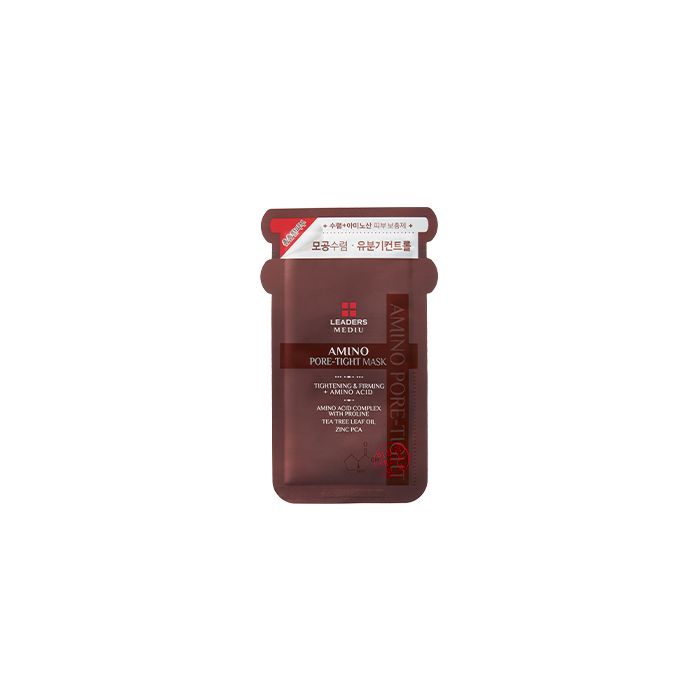 Leaders Mediu Amino Pore Tight Mask 25 ml
LEADERS
A daily pore tightening mask that uses astringent ingredients containing zinc PCA and 17 different amino acids to tighten and moisturize the skin.
Recommended for:
Skin are losing tension and pore can be seen clearly
When uneven skin does not take makeup well
Skin losing elasticity and not tightening
Amino acids replenish skin moisture.
An amino acid composition containing 17 kinds of essential ingredients to replenish skin moisture and elasticity, help to calm and balance the overall skin condition. The underlying natural moisturizing factor of healthy skin is protected.
Control pores increased by sebum
Refreshes the skin by controlling and removing excess sebum and dead skin to clear the pores of impurities.
Tighten pores for flawless skin
Tea tree oil ingredients help to calm and control excess sebum while zinc PCA components prevent the pores from expanding.
How To Use
1. After cleansing and applying toner, remove the mask from the sachet and apply to the face, fitting to fit the curves around the eyes, nose, and mouth.2. Leave on for 15-20 minutes, then remove. Gently pat to help the essence absorb.
LEADERS
Leaders Cosmetics is a professional cosmeceutical company with over 10 years of experience in the global skin care industry. Leaders is the #1 seller of sheet masks in the world, founded by skilled dermatologists from Seoul National University in South Korea. Their aim is to help women and men restore their self-confidence through beautiful, glowing and healthy skin.
Kamu Mungkin Juga Suka
Semua Ulasan
good!

Jatuh cinta pada pemakaian pertama. Bahan sheet masknya beda dr yg krn mirip gauze gitu, lembut, gak terlalu tebel atau tipis dan gak mudah sobek. Essencenya beneran nyerep di maskernya dan banyak. Plus poin nya adalah essencenya gak lengket sama sekali ditambah dia beneran sesuai klaimnya. Begitu dipake dimuka lgsg terasa sensasi dingin, calming,soothing. Dia jg meringankan iritasi dan membantu mengontrol minyak di wajah. Lembabnya dikulit juga pas banget hak berat atau terasa berminyak

Sheetmask leaders

Kenal CNF ini dari temen aku, aku pkir hanya jual parfum doang rpnya ada jual skincare.. jadi produk pertama yg aku beli di produk CNF ya sheetmask Leaders, kemarin aku borong banyak banget.. sheetmask Leaders kesukaan aku si apalagi ditambah promo" nya