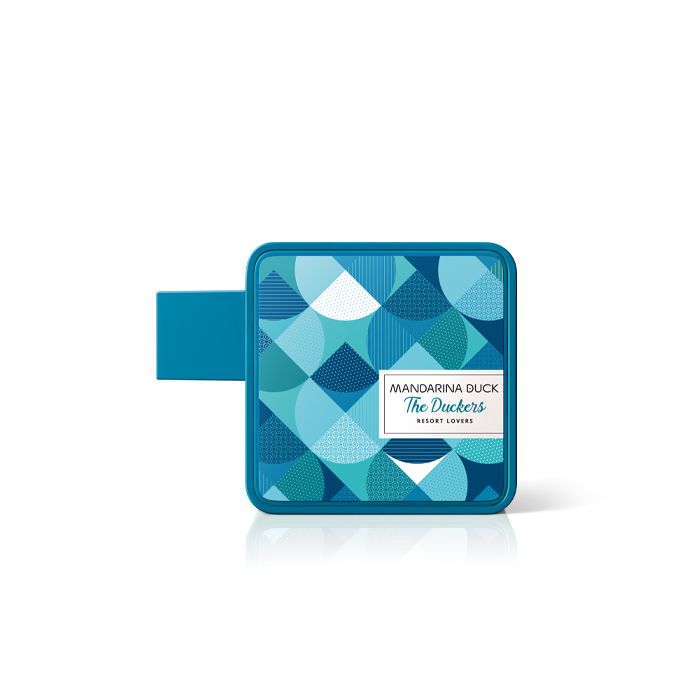 Musk floral aquatic fragrance for man and woman.
The freshest, most exciting, most innovative and very fun launches of Mandarina Duck takes inspiration from the travel experience of two couples who use their favorite UNISEX PERFUMES on each of their journeys. Meet : The Duckers  Are you someone WHO TRAVEL TO SEEK RELAXATION, PEACEFULNESS & SPAS? If yes, then you gotta love 'Resort Lovers'. This fragrance gives impression to be at the center of the world while being surrounded by nature and calm, a parenthesis of time. This impression of total escape, and the relationship between the freshness of nature and the power of water was the aim of the fragrance. A scent that plunges me back in a peaceful paradise right away. Ready to start your adventure?
Top Notes : Aquatic accords , violet leaves, bergamot Middle Notes : Rose essential oil, lily-of-the-valley, osmanthus absolute Base Notes : Cypriol essential oil (a.k.a. nagarmotha), tonka bean absolute, patchouli essential oil
How To Use
Spray on the body or clothing. Avoid contact with eyes or irritated skin. If occurs, wash with water to clean. Keep away from fire or flame source.
MANDARINA DUCK
Mandarina Duck fragrances were made in collaboration with perfumers Nathalie Lorson, Veronique Nyberg, Carine Boin, Sylvie Fischer, Guillaume Flavigny, Daphne Bugey, Jacques Huclier and Jean-Pierre Mary.
Semua Ulasan
SUPER DUPER WORTH IT

Ini walaupun EDT tapi awet banget, worth to buy!