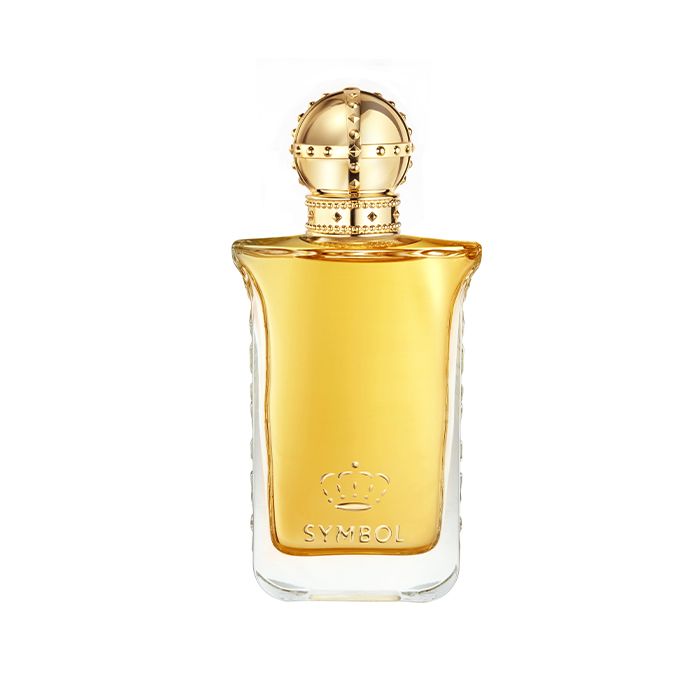 A gourmand oriental fragrance for women.
SYMBOL ROYAL is a reflection of a disarming sensuality. Fragrance of a sophisticated and passionated woman assuming her feminity. Her scent trail catches and drags you until the end of the night. Symbol Royal is a fruity oriental fragrance constructed on orange blossom, jasmine and violet notes.
This floral bouquet is mixed with a sensual sweet woody drydown, and refreshed by a delicate fruity note of Nashi Pear. A modern and addictive fragrance.
Top Notes: Raspberry, peach
Middle Notes: Orange flower, peony
Base Notes: Praline, patchouli, amber
How To Use
Spray on the body or clothing. Avoid contact with eyes or irritated skin. If occurs, wash with water to clean. Keep away from fire or flame source.
MARINA DE BOURBON
Princess Marina de Bourbon is a French perfume house founded by Marina Gacry, whose husband is Prince Andre of Bourbon-Parma, a member of ancient Bourbon of Parma Dynasty whose members ruled over France, Navarre, the Kingdom of Naples, the Duchy of Parma and still to this day, over the throne of Spain.
Semua Ulasan
Excellent

Nice perfume, suitable for working woman

Sedap malam

Ini wanginya sedap malam. Kalau untuk mamak mamak pasti bahagia bgt pake parfume ini.

Kalo remaja kayaknya kurang cocok. Wanginya ini untuk wanita dewasa bukan untuk remaja ceria.

Aromanya jasmine sambac tapi goalnya itu sedap malam.

Pakenya sedikit. Terlalu banyak. Pusing.... Kasihan tetangga

No free gift, it just marketing trick

There is no problem with the product, nice smell, strong and longlasting if you spray on fabrics or skin. However i am very disappointed, the etalase describe there is free 30ml, 7,5ml, and vial, well it's a LIE. Bad marketing trick.
I prefer to buy online than buy at store to get the free gift, and waited for 10 days to get the product. I am very disappointed for this purchase.

ELEGANT

Ini wanginya enak banget. Fresh buah tp warm krn ada praline nya jd mirip2 vanilla gitu wanginya. Aku yg ga suka sm vanilla jd suka bgt sm wangi parfum ini. Mature tp ga old lady. Menurutku lbh cocok dipake malam sih ini