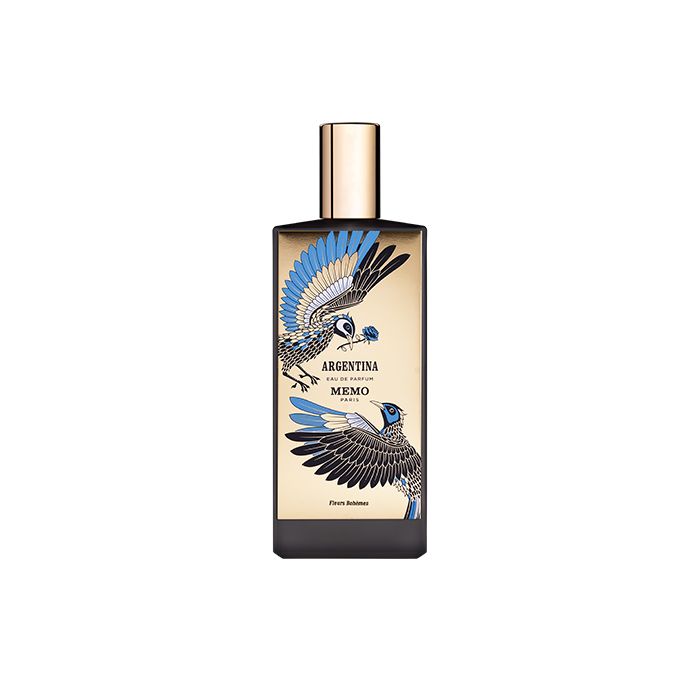 Tango Rose. With Argentina, Memo plunges into the heart of a territory, a country, to the rhythm of a dance, a passionate impulse. Argentina is embraced in its entirety, carried away in a single movement; that of a twirling tango. A dance of mixing, of travel, and on the dance floor, corolla shapes appear. Like a rose, emblematic of perfume, queen of flowers and symbol of ardent love. A floral aromatic with a sweet and warm back, wraps you in elegant and delicate way, where rose and oud meet to a tango dance.
Here the sun is a laughing character. Warm and welcoming as oud. Here the common bird, the hornero, has an intense, fast and unexpected way of singing and calling its partner. Like Tango. This nomadic dance, symbol of travel, of mixed cultures, of shared traditions, expressing the constant surprise of life. A surprise like a touch of ambrette combined with rose. The dancers are entirely dedicated to the smoothness and audacity of their movements. She's wearing a rose in her hair, her heels draw a corolla on the floor. Jasmine and magnolia whisper between their shoulders and waists. Here the ground resonates with dancers footsteps, the sky is filled with birds songs and in the air, an enveloping perfume floats.
Key Notes: Ambrette absolute, Rose absolute, Oud oil Ingredients: Pink pepper, Essence of Rose, Jasmine Sambac, Absolute and Egyptian Jasmine Absolute, Magnolia oil, Cypriol
Size
75 ML
How To Use
Spray on the body or clothing. Avoid contact with eyes or irritated skin. If occurs, wash with water to clean. Keep away from fire or flame source.
MEMO PARIS
15 years of perfumes and passion. Memo Paris is 15 years old.
15 years, the time of irreverent, unpredictable and bubbling love. Flamboyant like a chypre perfume. Enchanting like a fresh water. Bold like a leather note. A perfume is a love story. Between the ingredients that come together, between the fragrance and the skin. Memo Paris is a story of encounters, the adventure of two people, then that of a t eam. A play in which geography plays the leading role. A play in which geography plays the leading role. Perfume is picked from the four corners of the world. But not only that. Memo Paris is also a story of travel, of train departures, of movements, of wa kes. From wandering seeds to nomadic leathers, Memo Paris harvests the bohemian flowers of its dreams.