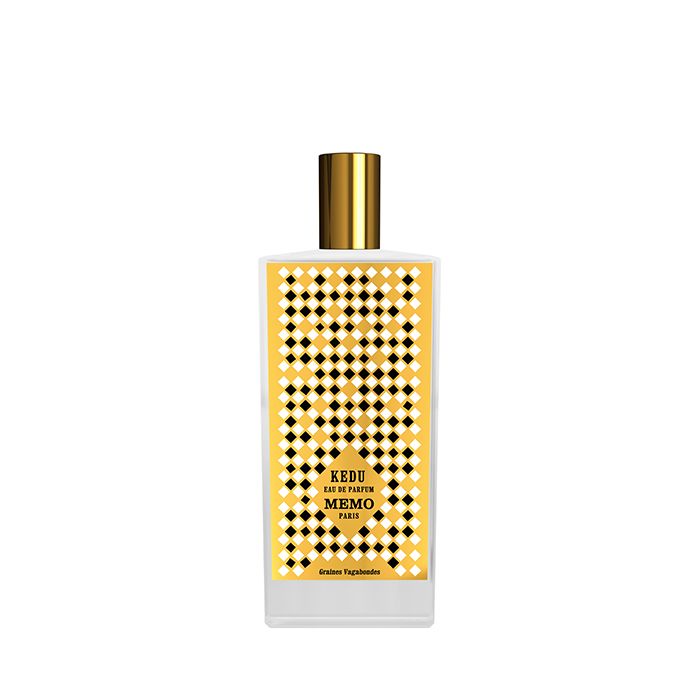 The Garden of Java, a plain bordered by a centuries-old volcano. Oil of grapefruit. Glossy green palm trees, one-horned rhinoceroses, giant flowers in changing colours, prehistoric buffalo, and bent-backed pilgrims, MatA© absolute. The temple of Borobudur, shrouded in mist, rises up like a lotus blossom. White musk. Its flaming domes, the vital force of sesame seeds, a release from the yoke of passion. Rose-peony accord. Kedu, enchantment, dizziness, passion.
KEY NOTES
Oil of grapefruit, Sesame absolute, White musk
INGREDIENTS
Oil of grapefruit, neroli, oil of mandarin, Mate absolute, freesia accord, rose-peony accord, Sesame absolute, white musk, moss
How To Use
Spray on the body or clothing. Avoid contact with eyes or irritated skin. If occurs, wash with water to clean. Keep away from fire or flame source.
MEMO PARIS
15 years of perfumes and passion. Memo Paris is 15 years old.
15 years, the time of irreverent, unpredictable and bubbling love. Flamboyant like a chypre perfume. Enchanting like a fresh water. Bold like a leather note. A perfume is a love story. Between the ingredients that come together, between the fragrance and the skin. Memo Paris is a story of encounters, the adventure of two people, then that of a t eam. A play in which geography plays the leading role. A play in which geography plays the leading role. Perfume is picked from the four corners of the world. But not only that. Memo Paris is also a story of travel, of train departures, of movements, of wa kes. From wandering seeds to nomadic leathers, Memo Paris harvests the bohemian flowers of its dreams.
Kamu Mungkin Juga Suka
Semua Ulasan
cantik banget gambarnyaaa. emo Paris Kedu EDP 75 m

Kedu by Memo Paris is a Floral Green fragrance for women and men. Kedu was launched in 2014. The nose behind this fragrance is Alienor Massenet. Top notes are Grapefruit, Neroli and Mandarin Orange; middle notes are Mate, Freesia, Rose and Peony; base notes are Sesame, White Musk and Moss.