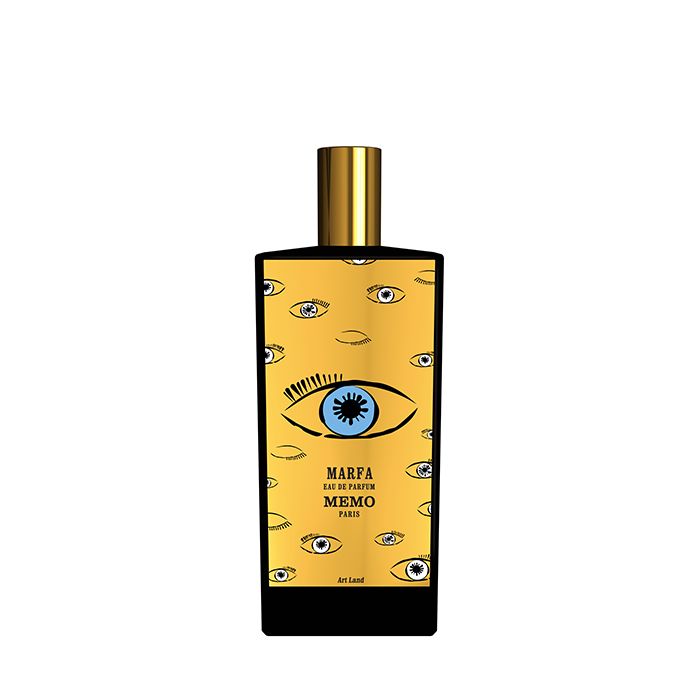 Gaze skyward, the desert is forgotten. Tuberose absolute. Mystery, infinity hidden from view, silence beneath the cacti. A slow-motion Western. Vanilla seed. The Milky Way leaves an azure trail, the road, half-cedar, half-sandalwood, rises. Orange blossom absolute. Monolithic shadows, dreamed sculptures or rocky mountains, worlds collide. Agave accord. Still the wind, meld musk with the strident, striped colour of neon light, stir the dust from orange blossom. Heat, drunk on blue, memories. Oil of ylang ylang. Here, life is a storybook. Marfa.
KEY NOTES
Orange blossom absolute, Tuberose absolute, White musk
INGREDIENTS
Oil of mandarin, orange blossom absolute, agave accord, tuberose absolute, oil of ylang ylang, oil of sandalwood, oil of cedar, vanilla seed, white musk
How To Use
Spray on the body or clothing. Avoid contact with eyes or irritated skin. If occurs, wash with water to clean. Keep away from fire or flame source.
MEMO PARIS
Memo Paris was founded in 2007 by Clara Molloy and her husband John. They see fragrance as a journey, forging its identity around magical destinations and potent raw materials. This desire for travels to far-off places and encounters is the very reflection of the founding couples: she the Parisian-Catalan poet, he the sporty Irish globetrotter. Through four collections, Memo recharts the map of a sensory world steeped in emotion, revisited with fragrances, ingredients and sensations. The motto: 'The journey is the destination'. Memo Paris has made its home at 24, Rue Cambon, in the 1st arrondissement of Paris. Its creations are available in over thirty countries.
Related Products