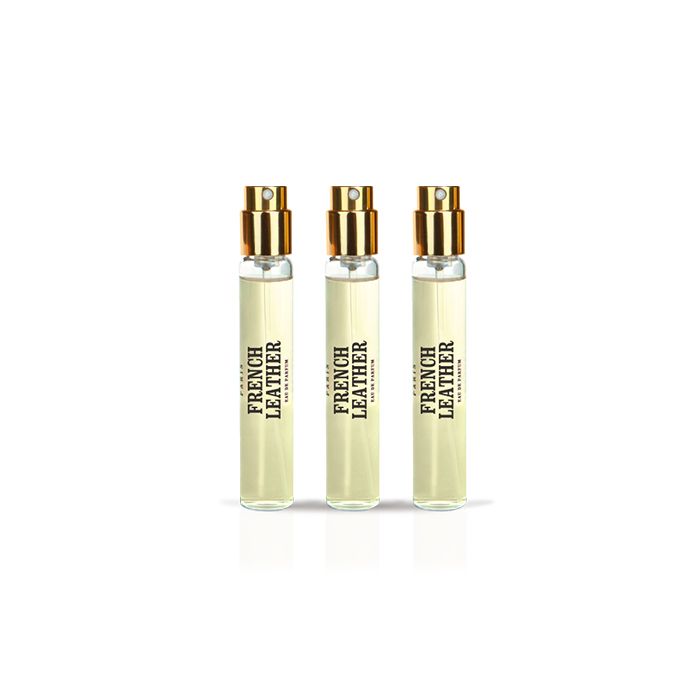 Memo Paris Refill French Leather 3x10 ml
MEMO PARIS
What is being French all about? Being deceptively casual. Not quite nonchalant. Leather that rises up beneath the rose. A sparkle in the eye. Style, even offhand. Having a table of choice in a favourite cafA©. The smell of suede inside a handbag. A certain idea of style. Talent. Just one cigarette. Lime. Faith in onevals destiny. Taking trivial things seriously. Knowing how to combine opposites. Knowing the name of each bridge in Paris. Cedar. Learning to hide onevals thorns. The glimpse of a shoulder. Charm. Never being totally lost. Inventing ancestors. Well-placed beauty spots. Pink pepper. Improvising. Being right. Knowing the right moment to undress. Musk. Kissing.
KEY NOTES
Lime essence, Rose water essence, Suede accord
INGREDIENTS
Lime essence, pink pepper essence, juniper essence, rose essence, clary sage essence, cedar essence, styrax resin, vetiver, musk, suede accord
How To Use
Spray on the body or clothing. Avoid contact with eyes or irritated skin. If occurs, wash with water to clean. Keep away from fire or flame source.
MEMO PARIS
15 years of perfumes and passion. Memo Paris is 15 years old.
15 years, the time of irreverent, unpredictable and bubbling love. Flamboyant like a chypre perfume. Enchanting like a fresh water. Bold like a leather note. A perfume is a love story. Between the ingredients that come together, between the fragrance and the skin. Memo Paris is a story of encounters, the adventure of two people, then that of a t eam. A play in which geography plays the leading role. A play in which geography plays the leading role. Perfume is picked from the four corners of the world. But not only that. Memo Paris is also a story of travel, of train departures, of movements, of wa kes. From wandering seeds to nomadic leathers, Memo Paris harvests the bohemian flowers of its dreams.
Kamu Mungkin Juga Suka