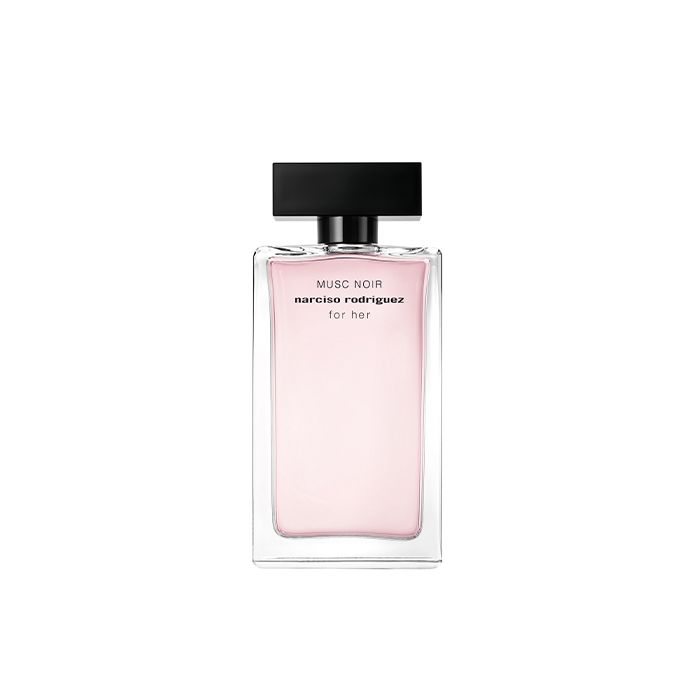 A transcendent new fragrance that reflects the enduring enigma of modern femininity. Fragrance Family: Earthy & Woody, Floral
This fragrance is a statement about the endlessly mysterious nature of a woman's sensuality. An exploration of musc's raw power reveals a transcendent new fragrance that portrays the ever-fascinating enigma of modern femininity. for her MUSC NOIR heightens the addictive nature of the original for her with an exploration of the darker, more intense aspects of Narciso Rodriguez's signature musc. "for her MUSC NOIR has a mysteriously, dark and seductive quality about it that is rare and unique." Narciso Rodriguez. The composition of for her MUSC NOIR includes a darker musc with a rich olfactory depth, both mysterious and extremely sensual. Leathery suede accords transform the heart of musc and intensify the sinuous skin-on-skin sensuality of the fragrance. Along with the rich leather suede accords, the heart of musc is further emboldened with heliotrope and enhanced by white cedar and rose—a hint of lucious plum adds light and harmony. When for her MUSC NOIR is layered with for her PURE MUSC, it becomes an even more memorable statement, an experience of pure luxury—your personal signature scent.
Top Notes: Plum Middle Notes: Heliotope Flower & Heart of Musc Base Notes: Suede Leather Accord
How To Use
Spray on the body or clothing. Avoid contact with eyes or irritated skin. If occurs, wash with water to clean. Keep away from fire or flame source.
NARCISO RODRIGUEZ
Narciso Rodriguez III is an American fashion designer of Cuban ancestry. Narciso Rodriguez launched his first fragrance, For Her, in conjunction with Shiseido's Beaute Prestige International Brand in 2003. The men's companion, For Him, was launched in 2007.