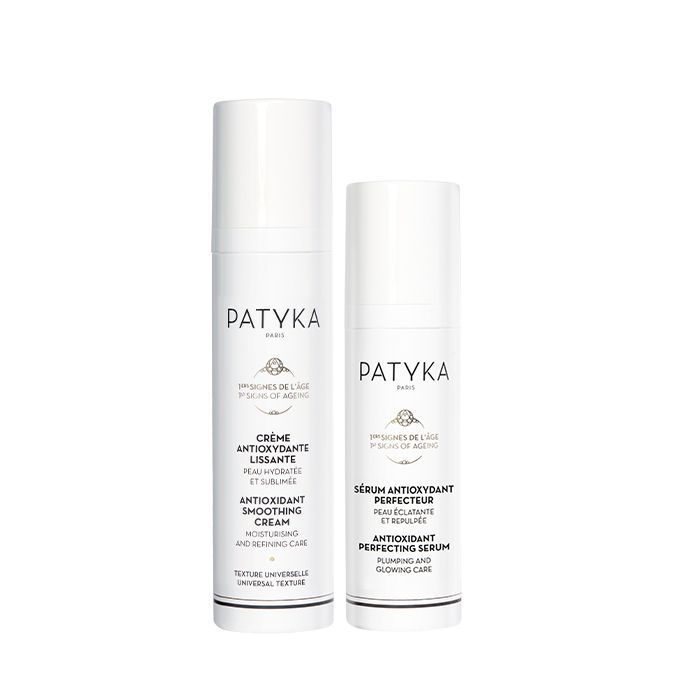 Patyka Antioxidant Perfecting Serum + FREE Antioxidant Smoothing Cream
In stock
SKU
BundlePatykaAntioxidantSerumCream
This package consists of:
1 Patyka Antioxidant Perfecting Serum 30ml
FREE 1 Patyka Antioxidant Smoothing Cream Thin/Universal Texture 50ml (Choose Your Option)
Patyka Antioxidant Perfecting Serum 30 ml:
Antioxidant Perfecting Serum is a skin perfector with antioxidant boosters. It blocks free radicals, defends skin against everyday aggressors, visibly smooths wrinkles, hydrates, oxygenates and plumps skin.
Patyka Antioxidant Smoothing Cream:
Indispensable for all urban skin and those who wish to prevent the signs of aging, Smoothing Antioxidant Cream neutralizes free radicals, intensely moisturizes, energizes the skin and smoothes fine lines and wrinkles.
Thin Texture: Its light, fresh texture is particularly suited to normal to combination skins, and to sensitive skin.
Universal Texture: Its universal, smooth and delicate texture is suitable for all skin, even sensitive.
How To Use
Patyka Antioxidant Perfecting Serum:
Morning and evening, apply Antioxidant Perfecting Serum over your whole face before your cream to create the perfect combination.
Patyka Antioxidant Smoothing Cream:
Each day, apply a hazelnut-sized amount of Antioxidant Smoothing Cream onto your face on its own or after serum. This is the perfect combination.