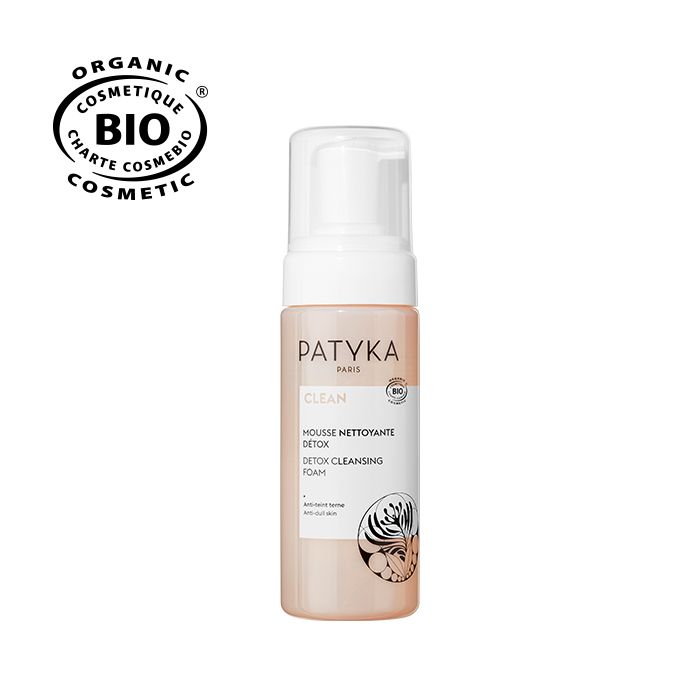 Patyka Detox Cleansing Foam 150 ml
PATYKA
*Releases impurities and particles of pollution
*Gentle formula: sulfate-free, soap-free
*Luminous complexion and more regular skin texture
Step n°2 of the double cleaning
The first step to beautiful skin? A gentle yet effective cleansing.
Cleaning is the second stage of the double cleaning CLEAN. The CLEAN ritual removes make-up, cleanses and plumps the skin deep down for a luminous complexion and a more even skin texture.
Detox Foaming Cleanser frees the skin from impurities and removes pollution particles accumulated during the day.
Suitable for all skin types, it is enriched with Aloe Vera with its moisturizing and soothing properties, and Organic Moringa with its exceptional detoxifying power.
Its soap-free formula and its ultra-smooth texture allow to cleanse the skin while respecting its natural balance.
Skin type: ALL SKIN TYPES
Texture: DENSE AND CREAMY MOSS
98.3%dari kandungan total berasal dari bahan-bahan alam
10% dari kandungan total berasal dari pertanian organik
INGREDIENTS: AQUA (WATER), COCO-GLUCOSIDE, SODIUM LAURYL GLUCOSE CARBOXYLATE, LAURYL GLUCOSIDE, APRICOT KERNEL OIL POLYGLYCERYL-6 ESTERS, PERFUME (FRAGRANCE), SODIUM CITRATE, LEVULINIC ACID, SODIUM BENZOATE, COCAMIDOPROPYL BETAINE, GLYCERIN, CITRIC ACID , SODIUM LEVULINATE, SORBIC ACID, ALOE BARBADENSIS LEAF JUICE POWDER *, LIMONEN * *, GERANIOL * *, COUMARIN * *, LINALOOL * *, CITRONELLOL * *, MORINGA OLEIFERA LEAF EXTRACT *
The Ingredients list decoded:
Water, Coco-glucoside, sodium lauryl glucose carboxylate, Lauryl glucoside, Apricot dan polyglycerin kernel oil derivative, perfume, sodium citrate, levulinic acid, sodium benzoate, cocamidopropyl Betaine, glycerin, citric acid, sodium levulinate, scorbic acid, powdered Aloe Vera leaf juice *, limonene * *, geraniol * *, coumarin * *, linalool * *, citronellol * *, Moringa leaf extract *
* kandungan berasal dari pertanian organik
**Made using organic ingredients
How To Use
Langsung di atas Melting Cleansing Oil, atau setelah wajah dibilas dan masih basah, aplikasikan Detox Cleansing Foam dengan ujung jari dan bilas dengan air hangat.
PATYKA
PATYKA is an Organic Parisian Skincare brand which dates back to the 1920s. A pioneer, PATYKA Created the first cares premium with proven organic proven efficiency (ECOCERT label), unique fragrances and textures, which offer a unique vision of beauty. PATYKA multiplies initiatives daily to preserve the environment and is committed to creating cares certified ORGANIC, 100% MADE IN FRANCE and VEGAN.
Kamu Mungkin Juga Suka
Semua Ulasan
Gentle foam

Cleanser ini paling efektif dipakai kalau kulit benar-benar kotor, beneran. Meski katanya ini 2nd step dalam double cleansing, pakai ini sebagai daily cleanser cukup kok menurutku. Kecuali ada make up seperti foundation better pakai Patyka Melting Oil dulu

Baunya enak

Cleanser dari patyka ini baunya enak. Aku suka banget. Bau cistrus-y gitu. Fresh banget.
Walaupun bentukannya foam, tp gak terlalu berbusa yg kayak busa banget. Busanya masih nyaman dan gak bikin kering.
Foam ini pun bisa menjadi alarm buat aku. Kalo pakai cleanser ini wajahku cekit-cekit, berarti skin barrier aku lagi gak bagus. Tapi pas pakai cleanser ini gak ngerasain cekit-cekit, berarti skin barrier aku lagi bagus.