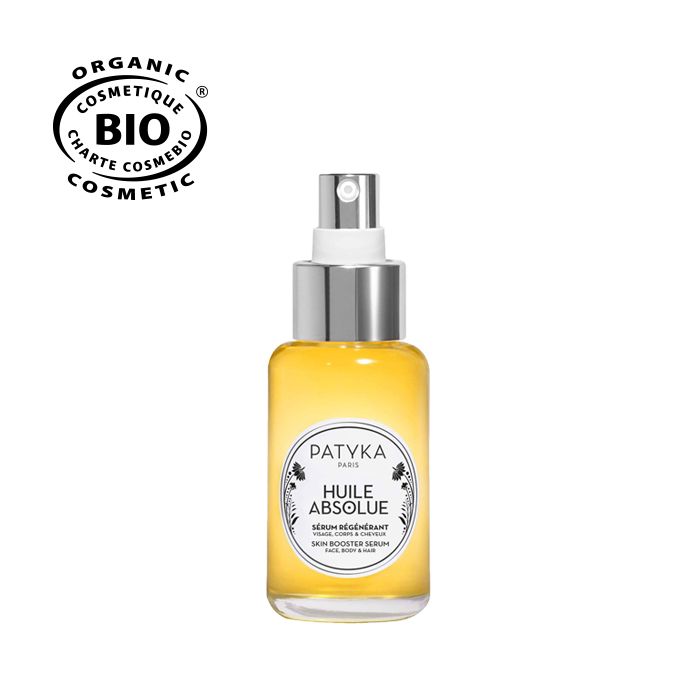 Patyka Huile Absolue Serum 50 ml
PATYKA
*perawatan SOS dengan 12 essential & vegetable oils* wajah: meratakan warna kulit, memelihara dan mengembalikan cahaya kulit*Tubuh: regenerasi dan detoksifikasi massage oil* rambut: memelihara dan merevitalisasi rambut rusak
NOURISHING AND REGENERATING CARE WORSHIP
True care multi-function and unique shine stimulator, Huile Absolue is a skin booster that can be used as a cure, first aid, care or every day, on the face, body and hair.
Absolute Oil brings tonicity, radiance and nutrition to the skin. Applied to the hair, it makes a perfect care nourishing and revitalizing and brings back life to damaged hair and dry ends.
Suitable for all skin types. It is ideal for sensitive or irritated skin that can no longer tolerate anything. It also protects fragile and atopic skin.
Skin type: ALL SKIN TYPES
Texture: TOUCH DRY AND SILKY SMOOTH, NON-GREASY FINISH
100% dari kandungan total berasal dari bahan-bahan alami
59.4% dari kandungan total berasal dari pertanian organik
INGREDIENTS : SQUALANE, ROSA CANINA FRUIT OIL*, SESAMUM INDICUM (SESAME) SEED OIL*, SIMMONDSIA CHINENSIS (JOJOBA) SEED OIL*, PERFUME (FRAGRANCE)*, GERANIOL**, OLEA EUROPAEA (OLIVE) FRUIT OIL*, HELIANTHUS ANNUUS (SUNFLOWER) SEED OIL*, TOCOPHEROL, LIMONENE**, TRITICUM VULGARE (WHEAT) GERM OIL, CITRONELLOL**, HYPERICUM PERFORATUM EXTRACT*, LINALOOL**, HELIANTHUS ANNUUS (SUNFLOWER) SEED OIL, CITRUS RETICULATA (TANGERINE) PEEL OIL*.
The Ingredients list decoded:
SQUALANE, ROSE OIL MUSCAT *, SESAME OIL *, JOJOBA OIL *, FRAGRANCE *, GERANIOL * *, OLIVE OIL *, SUNFLOWER OIL *, VITAMIN E, LIMONEN * *, WHEAT GERM OIL, CITRONELLOL * *, WORT EXTRACT *, LINALOL * *, SUNFLOWER OIL, OIL TANGERINE ZEST *
* kandungan berasal dari pertanian organik
* * comes from organic essential oils
How To Use
Apply in the evening, as local treatment or first aid to entire face or mixed with cream locally on the body for dry,, rough, &amp, irritated zones. On dry and damaged ends hair or as a mask over the scalp then rinse with shampoo
PATYKA
PATYKA is an Organic Parisian Skincare brand which dates back to the 1920s. A pioneer, PATYKA Created the first cares premium with proven organic proven efficiency (ECOCERT label), unique fragrances and textures, which offer a unique vision of beauty. PATYKA multiplies initiatives daily to preserve the environment and is committed to creating cares certified ORGANIC, 100% MADE IN FRANCE and VEGAN.
Kamu Mungkin Juga Suka
Semua Ulasan
One of the best Face Oil

I love this product! It is organic and at the same time smells really good. I have been using Huile Absolue for a year, and it helps with my acne scars, dry skin and eczema. Truly recommended.