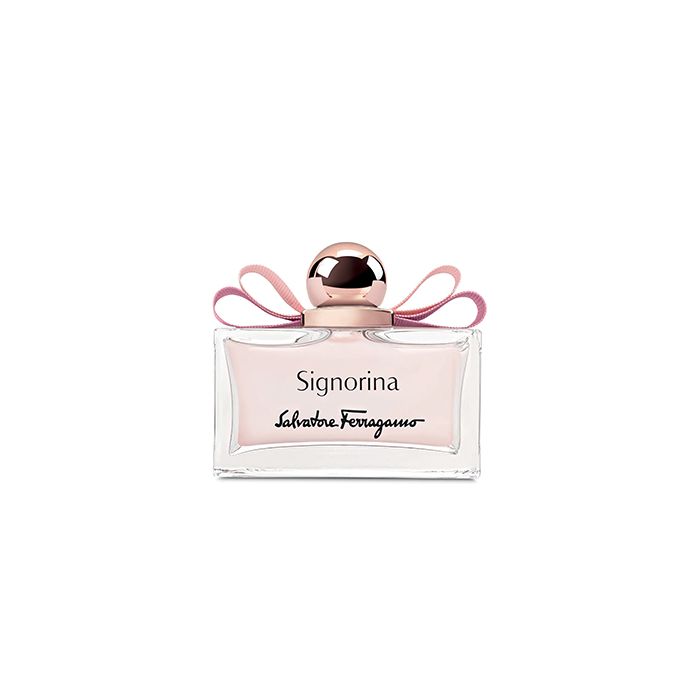 A celebration of chic girls with a sophisticated, subtly cheeky and fresh scent signature.
Signorina is a lovely and chic Italian name that literally means young woman. Stylish, truly Italian, fresh and full of life. Salvatore Ferragamo Signorina is inspired by the strong bond between Ferragamo and trendy feminine young ladies with timeless modernity, creativity, and a hint of audacity.
Top Notes: Red Currant, Pink Pepper Middle Notes: Peony, Rose, Jasmine Base Notes: Pannacota, Patchouli, Musk
How To Use
Spray on the body or clothing. Avoid contact with eyes or irritated skin. If occurs, wash with water to clean. Keep away from fire or flame source.
SALVATORE FERRAGAMO
Salvatore Ferragamo was an Italian shoe designer noted for his creative and scientific approach to footwear design. Ferragamo passed away in 1960, but the Ferragamo company has remained in family hands and expanded its empire to include bags, eyewear, accessories, watches, ready-to-wear clothing and perfumes.The first fragrance, Salvatore Ferragamo for women, was launched in 1998. In 2001, Ferragamo Parfums was established, which releases fragrances under the Ferragamo and Incanto names.
All Reviews
Elegant

Salfatore ferragamo.. salah satu parfum andalan .. type signorina women ini banget wanginya..cocok buat wabita muda,feminin dan kreatif .kalem dan tahan lama

Parfum favorite ke kantor

Dari dulu mengincar parfum ini tapi alamak harganya buat mikir 7 keliling... (lebay)
Akhir tahun kmrn ada promo besar-besaran dengan diskon 50%...

Langsung add to cart dan alhamdulillaaaah aq dapeeeet...

Aq suka aq cinta wangi ini..
Aq buat tambah pede donk ke kantor...

Pas dateng eeeh dapet bonusssss makin cinta sama c&f ❤❤❤

signorina

sukaaaaaaaa.. bagi pengoleksi parfume wajib bgt punya ini

Repurchase this product

Smell soo good bener2 seenak ituu definitely repurchase this product! Pas itu beli pas diskon dan tetep aja banyak gift uhh seneng bgt belanja disini ❤️

So feminine~

yes, I'd say this perfume represents all of business woman haha , suitable for +25yo. Sweet, a bit floral, but I'd say this only lasting around 4-5 hours. Better to use it at night. the packaging is really sweet. I'd love to try another variants ~
Related Products