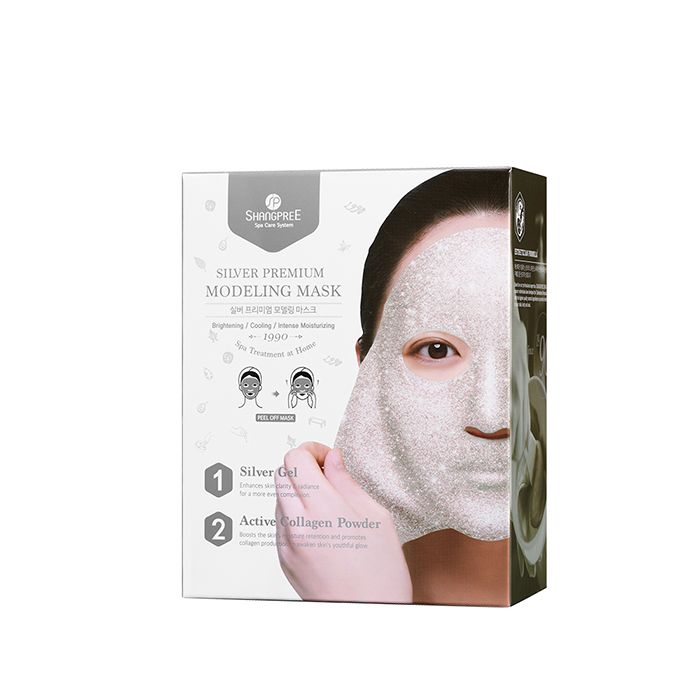 Shangpree Silver Modeling Mask (Bowl + Spatula)
SHANGPREE
Get ready for the newest trend in Korean Beauty: Modeling "Rubber" Masks.
Bring the luxury of a spa directly to your home by indulging in this hydrating, anti-aging mask. This luxe Silver Premium Modeling Mask is infused with silk amino acids in the Silver Gel that helps to replenish collagen, which give skin its strength, texture, and resiliency. The Silver Gel is formulated with brightening ingredients which helps clarify skin for a more radiant complexion. Mix the Silver Gel with the Active Collagen Powder, apply to face, let sit, and peel off the mask to reveal more hydrated, brighter, healthier skin. Each session will leave you with the appearance of firmer, hydrated, and more youthful looking skin.
One pack consist of:
Gel (50g X 1EA)
Active Powder (4.5g X 1EA)
Mixing Bowl
Spatula
Niacinamide, Silk Amino Acid, Hydrolazed Pearl, Peony Flower Extract
How To Use
Step 1. Cleansing Cleanse and tone your skin.
Step 2. (optional) Apply ampoule / cream if you want.
Step 3. Apply the mask Mix [1] Silver Gel and [2] Active Collagen Powder together. Spread evenly over the face and neck with a spatula. Leave it on for 30-60 minutes.
Step 4. Removing Peel it off in one piece. No need to rinse.
SHANGPREE
SHANGPREE has established since 1990 working close with 54 expertises from cosmetology science and has win 112 awards in national and international competitions. SHANGPREE SPA's master estheticians have developed the Esthetician Formula with the highest quality natural ingre dients to provide healing to your skin, body and soul. Now, You can experience SHANGPREE SPA's signature treatments at home with our time-tested products.
Kamu Mungkin Juga Suka