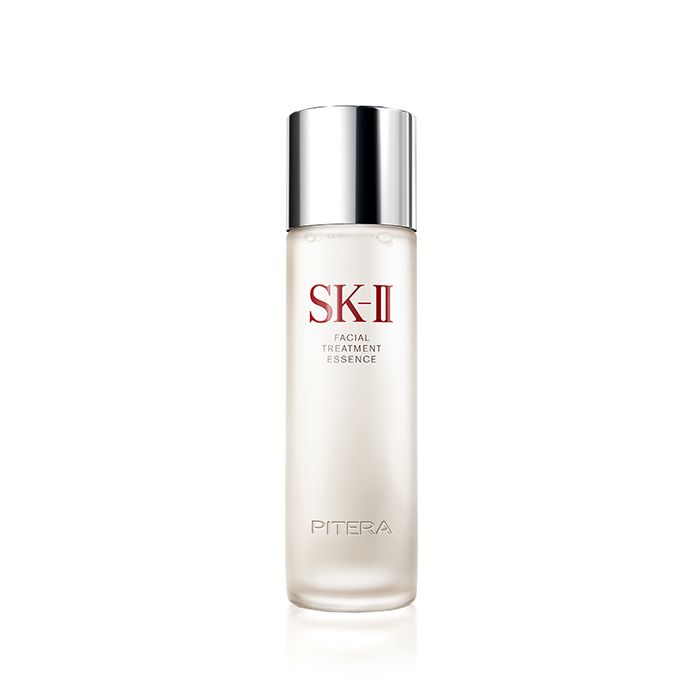 SK-II Facial Treatment Essence 230 ml
SK-II
A powerful treatment to visibly soften texture, reduce the appearance of dark spots and fine lines due to dryness, even the look of skin's tone, and enhance visible radiance.
Every drop of Pitera is produced by cultivating the one exclusive yeast strain under the most stringent conditions that remain SK-II's most valuable trade secret. This iconic essence's formula has then remained essentially unchanged for almost 40 years as the full efficacies of Pitera have not yet been uncovered; and until now, SK-II is continuing to discover new things it can do. A miracle like no other, Pitera is pure power of nature harnessed by advanced technology.
A bio-ingredient derived from yeast fermentation that resembles your skin's Natural Moisturizing Factors; contains over 50 micro-nutrients like vitamins, minerals, amino acids, and organic acids to condition skin's natural functions. Galactomyces Ferment Filtrate*, Butylene Glycol, Pentylene Glycol, Water, Sodium Benzoate, Methylparaben, Sorbic Acid.
How To Use
1. Pour about two to three shakes (approximately the size of a quarter) of essence into hand. Press palms together to wet both hands. 2. Gently smooth and press over your face and neck for one minute, ensuring even coverage 3. Continue patting the essence into skin until fully absorbed 4. Use twice daily, after cleansing and toning, and before serums or moisturizers
SK-II
SK-II began at a sake brewery in Japan. Scientists noticed the elderly workers had wrinkled faces but extraordinarily soft and youthful-looking hands—thanks to Pitera™, a naturally derived liquid from the sake fermentation process. Since then, SK-II with Pitera™ has become a skin secret shared by actress Cate Blanchett and women around the world—it transforms the complexion's texture, radiance, firmness, spot control, and wrinkle resilience. A leading skincare brand for more than 30 years, SK-II continues to deliver crystal clear skin through well-loved products including the Facial Treatment Essence, Essential Power Cream, and the Cellumination Essence.
All Reviews
legend

siapa yang gapernah coba/tau ini ya gak sihh?!? Bikin muka lembap, kenyal, dan glowing untuk pemakaian teratur. Habis pake biasanya muka berasa seger banget. FTE bantu aku banget klo muka lagi breakout gara2 salah produk. Klo ada jerawat bisanya aku kompres pake ini dan pginy jerawat kempes. minusnya emang di harga doang wkwk

Pitera for healthy skin

Ini tuh cocok-cocokan banget. Kalau cocok, hasil ke kulit tu bagus banget. Plumpy glowing all the great thing you hope in a bottle. Kalau ga cocok, jerawat batu gitu. beberapa org experience purging juga, ada yg membaik, ada yg engga. Kand utama nya pitera, semacam ekstrak ragi gt. Kalau kulitnya ga kuat sm alkohol tp tetep png coba, mending cari trial size nya dl deh. Lumayan mehong soalnya

Asli ngefek

Ini serum holy grail beneran bikin kulit lembut, ngencengin, dan alusss. Udh gtu awet banget makenya bbrp tetes doang. Utk pemakaian pertama ngalamin bruntusan jerewi gede2, tapi ttp lanjutin aja lama2 brenti sendiri. Minusnya cuma dia bikin kulit kering makin kering.