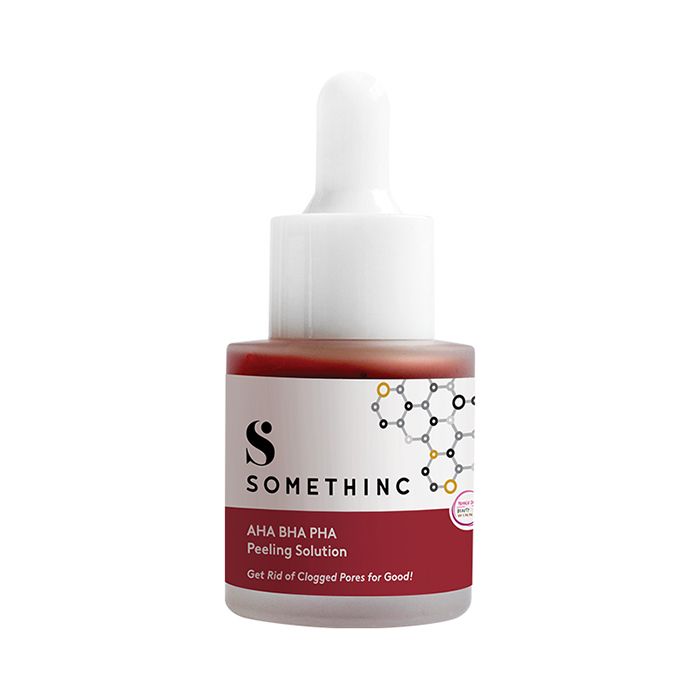 Somethinc AHA BHA PHA Peeling Solution 20 ml
SOMETHINC
Get rid of clogged pores for good!
Helps to clean clogged pores, remove dead skin cells and maintain skin moisture level.
How To Use
DO NOT USE ON WET SKIN. Wash your face & wait to dry. Use dropper to apply 5-10 drops across face & neck, avoiding the eyes area. Leave it not more than 10minutes, rinse with Luke warn water. Can be used 2times/week.
SOMETHINC
Born in 2019, SOMETHINC was inspired by our millennial friends who are looking for High Quality, Halal Certified Skincare & Makeup products for their active lifestyle. SOMETHINC aims to fulfill the need of the young & smart generation who are not only want to look good but also find it important to use trusted ingredients with Accessible Price We created SOMETHINC, because we believe that There is always Something for Us! SOMETHINC delivers happiness to you through Best formula and Halal ingredients with Accessible Price
All Reviews
Suka

Aku beli tgl 5, dikirim tgl 6 agustus. Trs kek jeda 2-3 hari nyampe rumah. Dapat sticker somethinc juga lucu banget.
Produk ini tu exfoliating toner dng konsentrasi yg lbh rendah dbdg merk US yg lg hype itu. Tekstur lbh cair. Kalo gabiasa pakai aha bha, disarankan buat cuci muka stlh pake. Kl uda biasa, gapapa kl ga cuci muka. Sensai cekit2nya ga parah bgt gt ko.

Cocok-cocok an

Kalau cocok dng produk ini, hasilnya bagus sekali. Kalau tidak, purging berkepanjangan. Pakainya seminggu 1-2x saja ya.

Affordable tapi bagus!

Produk exfoliating dengan harga yang cukup terjangkau ini ternyata lumayan oke lho dikulitku, awalnya emang purging dulu dan cukup lama, tapi abis itu di kulit yang ga berjerawat jadi makin mulus dan di kulit yang ada jerawatnya jadi berangsur membaik, tapi dengan pemakain yang cukup lama yaa. Secara tekstur ini mirip air jadi gampang banget netes, jadi kudu gercep ngeratainnya. Di tiga pemakain awal di kulitku rada cekat cekit, abis itu aman sentosa

best mild exfoliate

this product cleared my skin from whitehead and blackhead.

CHEMICAL EXFOLIATE TERLENGKAP!

Pas tau Somethinc ada di C&F rasanya jingkrak2 banget! Karena brand kesayangan! Aku pake di AHA BHA PHA ini udh lumayan lama, bagus banget sih semuanya buat exfoliasi ada di satu produk. Jadi efek ngangat sel kulit mati,mencerahkan sama meregenerasinya ada banget! Pake ini 5 menit cukup,waktu awal ada sensasi cekit-cekit tp semakin lama pake kaya aku udh lebih 2 bulan rasanya jd kaya pake toner aja lol. Efeknya tetep kerasa! Apalagi kl udh ada komedo2 di hidung,langsung hempasss!