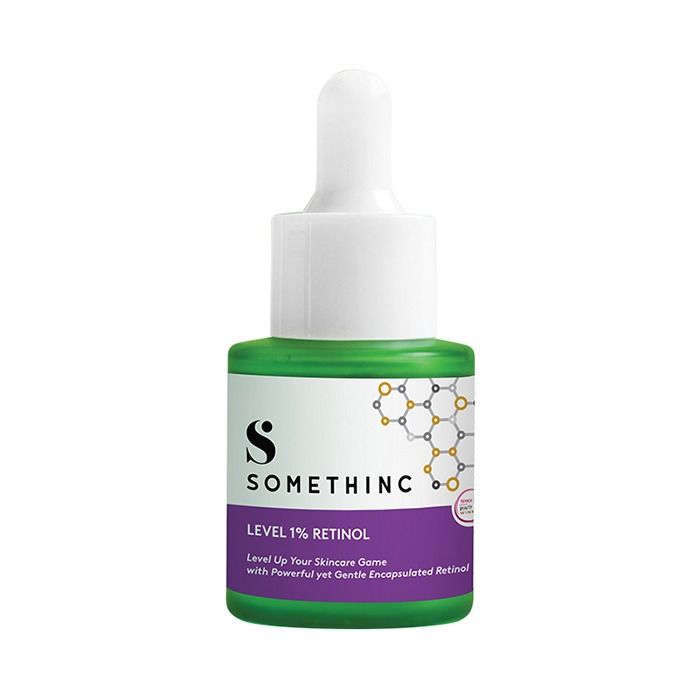 Level Up Your Skincare game with Powerful yet Gentle
Encapsulated Retinol
Contains encapsulated 1% Retinol safe for even sensitive skin.
Helps reduce aging signs, wrinkles, dark spots, hyperpigmentation, larger pores, and fine lines. Make skin appear brighter and smoother.
1% Retinol, Hyaluronic Acid, Allantoin, Ceramide-3, Terephthalylidene Dicamphor Sulfonic Acid
How To Use
Use dropper to apply 5-10 drops onto palm. Pat onto cleaned face and let it be absorbed by skin for 1-3 minutes.
SOMETHINC
Born in 2019, SOMETHINC was inspired by our millennial friends who are looking for High Quality, Halal Certified Skincare & Makeup products for their active lifestyle. SOMETHINC aims to fulfill the need of the young & smart generation who are not only want to look good but also find it important to use trusted ingredients with Accessible Price We created SOMETHINC, because we believe that There is always Something for Us! SOMETHINC delivers happiness to you through Best formula and Halal ingredients with Accessible Price
All Reviews
Worth a try

Menurut aku aga overhyped, but kamu bisa coba karena retinol yg ini aman ngga bikin merah atau ngelotok. But for me this is not enough to increase my skin firmness.

Nice

If you want to start using retinol, use this one and build slowly. Syukurlah gak purging pas dipakai pertama kali.

Retinol pertamaku

Si cimit yang soldout dimana2. Sebagus itu sih. Aku skeptical awalnya ya. Tp ternyata ini light bgt cuy! Gak ada reaksi cekit-cekit atau jd beruntusan. Cuma emng kaya megar aja di area sekitar hidung. Aku pake 2 hari sekali. Krn masih early juga nih pake retinol

Bagus

Pertama kali nyoba retinol 'beneran' karena review orang-orang pada bilang ini bagus dan cocok buat kulit sensitif. Mungkin belum terlalu kelihatan hasilnya karena baru 2 minggu pemakaian (3-4 hari sekali). Tapi so far tekstur kulit jadi lebih merata, bruntusan pada hilang. Semoga beneran efektif mengatasi garis-garis harus kerutan ya. Please restock lagi dong <3

Somethinc

Gilaaaaaa si, aku pertama x belanja di C&F merasa puass bgt, Packagingnya rapih bgt & dpt bonusnya buanyak bgt, aaa seneng sekali bakal langganan disini trus