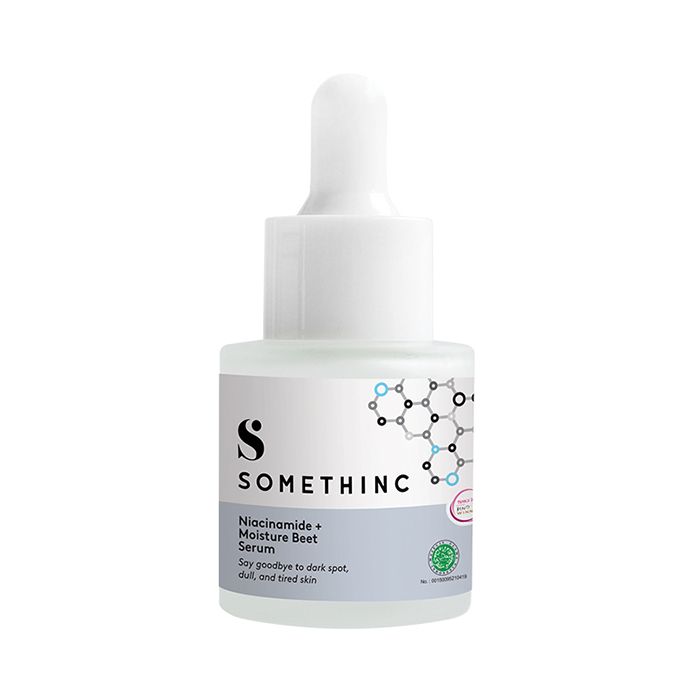 Somethinc Niacinamide + Moisture Beet Serum 20 ml
SOMETHINC
Say goodbye to Dark Spot, Dull, & Tired Skin! Niacinamide boosts barrier function by increasing ceramide production, while Beetroot fight Free radicals & moisturize the skin.
Help to Brighten, Improve your Skin Texture, Strengthen Skin barrier, Disguise Dark Spots & Hyperpigmentation on the skin, Moisturize, Restores suppleness , Reduces Redness, Acne-Fighting, & Minimizes the appearance of dry/damaged skin
10% Niacinamide. 100% Beetroot extract from swiss
How To Use
- Use dropper to apply 5-10 drops.
- Slowly massage the serum onto cleansed face.
- Suggestion use 3x times everyday (Morning, Afternoon, & night)
- Use a product over at least 6 weeks to notice a difference.
SOMETHINC
Born in 2019, SOMETHINC was inspired by our millennial friends who are looking for High Quality, Halal Certified Skincare & Makeup products for their active lifestyle. SOMETHINC aims to fulfill the need of the young & smart generation who are not only want to look good but also find it important to use trusted ingredients with Accessible Price We created SOMETHINC, because we believe that There is always Something for Us! SOMETHINC delivers happiness to you through Best formula and Halal ingredients with Accessible Price
All Reviews
Defo 5 stars!

Aku lg pake di botol kedua, so gooood. Teksturnya watery gitu, efeknya ga lgsg kelihatan si. Soalnya aku emg banyak bgt bekas jerawat. dia bantu ngerapiin tekstur kulit juga. Local pride banget inituuu

jujur ini bagus banget serumnya.

aku udah abis 4 botol serum ini karna bener2 ngaruh banget di muka aku. muka aku jadi glowing dari sebelumnya. kulit jadi kenyal2 gitu lembap aku sukaaa.. bener2 ini baguss bangettt. aku ga bakal move on dari serum ini.

Niacinamide Serum from Local Brand!

First of all i just wanna say somethinc is really something! They have an amazing products

Auto glowing

Aku pake setiap hari 2 kali sampai 3 kali. Paham kalau bakal melihat efek dari niacinamide setalah lebih dari 5 Minggu. Tapi... Dalam 2 Minggu teman2ku sudah komen kelihatan lebih glowing. Fix aku bucinnya somethinc

Thank u CnF

Sayang banget ga cocok sama niacinamide nya, bikin nambah beruntusan