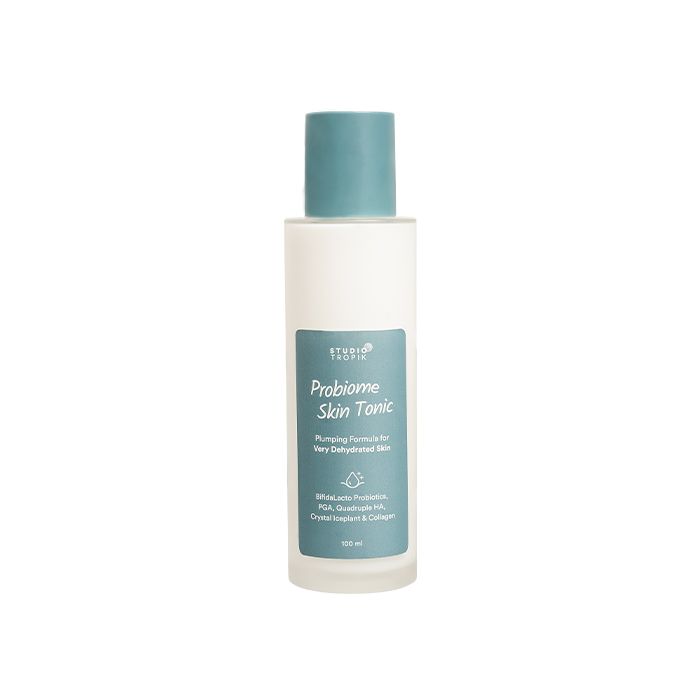 Probiome Skin Tonic has a creamy formula designed to create a plumping effect on highly dehydrated skin. With a unique texture and high concentration of active ingredients, Skin Tonic has the benefits of both toner and essence in one product.Suitable for Very Dehydrated Skin.
Bifida + Lactobacillus Probiotics: Balances skin microbiome Polyglutamic Acid (PGA): Retain skin moisture level. Quadruple Hyaluronic Acid (HA): Moisturize different layers of the skin Crystal Iceplant: Extremely hydrating properties Collagen: Improve skin elasticity
How To Use
Start your skincare routine with Studio Tropik Skin Tonic as a special 'welcome drink' for your skin. Apply Probiome Skin Tonic after your facial cleanser to activate a 'super sponge mode' which preps the skin for better absorption of your other skincare products
STUDIO TROPIK
Studio Tropik is here to revolutionize the beauty standards in Indonesia. Driven by the creation of innovative products, we integrate only the finest natural ingredients with the latest scienfitic technological advancements to achive your dream products.