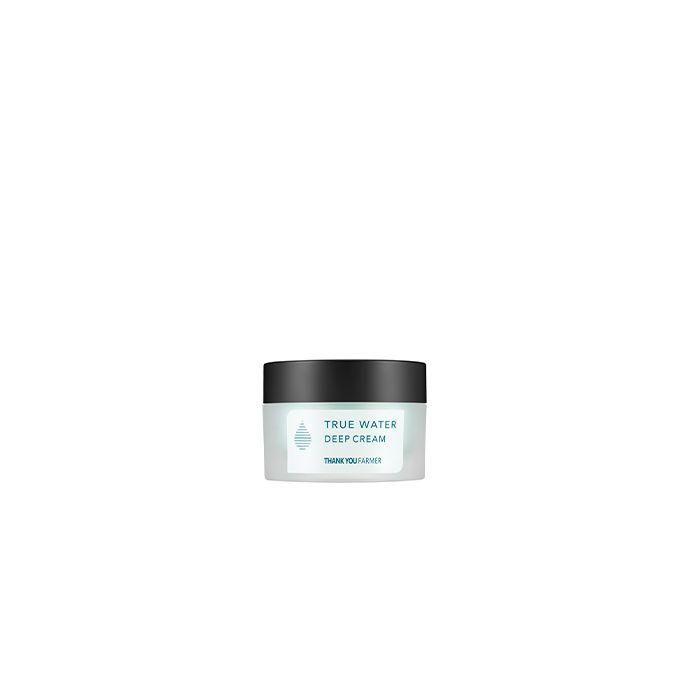 Starring soothing aloe vera, sodium hyaluronate and brightening liquorice extract, Thank You Farmer's True Water Deep Cream offers immediate, intensely moisturising benefits, softening skin and plumping away fine lines. With a rich honey-like texture, it sinks swiftly into dry and tired skin, working to relieve dullness and revitalise. Heavenly and hard-working, only a pea-sized amount is required for deep hydration – after cleansing, toning and treating skin, simply massage in until fully absorbed to reveal a dewy, plump, youthful and radiant result.
This luscious, honey-textured cream instantly moisturises and comforts the complexion. Perfect for dry skin types, it's enriched with soothing aloe vera and hydrating sodium hyaluronate, sinking in swiftly to boost moisture, relieve dullness and revitalise.
Inositol, hyaluronic acid, olive oil , squalane oil, argan oil, licorice extract, purslane extract, aloe vera juice, peony extract, shea butter. Formula ini bebas of mineral oil, paraben, Benzophenone, artificial pigment dan Chlorphenesin.
How To Use
Scoop an appropriate amount with your finger and apply lightly on the face and neck
THANK YOU FARMER
Thank You Farmer believes in creating products that focus on pure and honest ingredients. Rooted in the mentality of a farmer, the brand refuses to take shortcuts with nature or skin care, and instead uses real, hard-working ingredients to help strengthen skin over time. Our goal is to achieve balance for healthy skin slowly and naturally without burdening the skin. We promise you the true beauty that will shines over time.
Kamu Mungkin Juga Suka
Semua Ulasan
Oily acne prone skin

Aku make ini sampe bener2 habis,50 ml kepake nyampe 4 bulan karna ak pake buat krim malam aj,yang ak notice muka bukan putih tapi bersih sehat kenyel,saking penasaran sma prodak thank you farmer akhirnya ak beli seri yang lainnya juga...,g sabar buat nulis review lagi,kurangnya harus colek2 karna di jar dan wadahnya aga berat utk dibawa kemana2 buat tipe kulit oily acne prone kaya aku g ad masalah ...harga bawa rupa