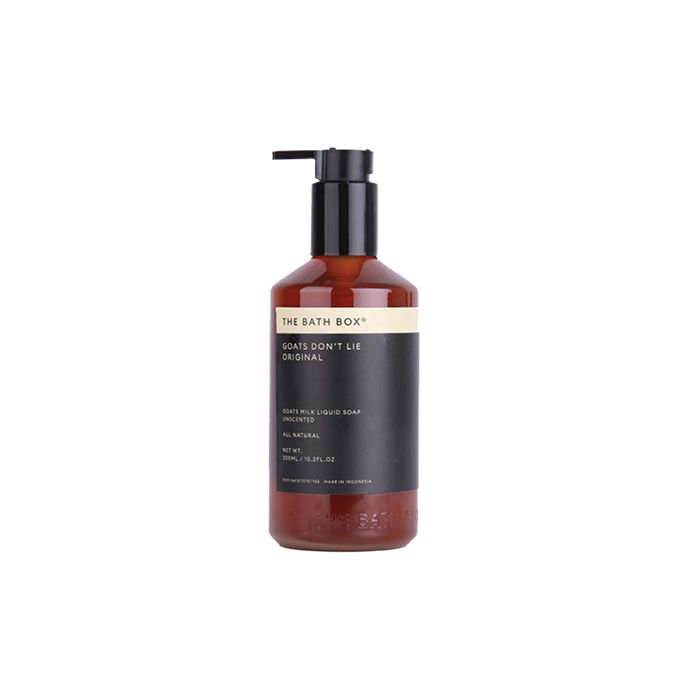 The Bath Box Goats Don't Lie Liquid Soap Original
THE BATH BOX
Rp 129.000

-

Rp 199.000
-10%
Liquid Soap with real goats milk. No SLS, no Detergen and no Fragrance
All natural liquid soap with fresh goats milk, olive oil, shea butter and jojoba oil to cleanse and maintain the smoothness and softness of skin at the same time. Goats Don't Lie Original is natural liquid soap, detergen free, preservative free and made by hand. This soap is best for sensitive skin, eczema and psiorasis.
Water, Olea Europaea (Olive) Oil, Potassium Hydroxide*, Caprae Lac, Cocos Nucifera (Coconut) Oil, Ricinus Communis (Castor) Oil, Glycerin, Butyrospermum Parkii (Shea Butter), Simmondsia Chinensis (Jojoba) Oil, Citric Acid. *None remains after saponifying oils into soap & glycerin. POM NA18170701748 Exp : 2 tahun - Sabun dari tanggal manufaktur
How To Use
Ambil secukup nya ke ke telapak tangan lalu usapkan ke bagian tubuh/ usapkan ke wajah jika ingin di jadikan sabun cuci muka. Peringatan: Hindari daerah mata dan membran mukosa. Jika produk terkena mata segera bilas dengan air mengalir selama 10 menit dan gunakan obat tetes mata 3-4x selama 24 jam. Hubungi dokter jika iritasi berlanjut.
THE BATH BOX
The Bath Box was founded in September 2013, born to answer the need for natural and handmade skin and hair care treatment that actually works. The idea begin when our own founder find the cure for her skin problem through the beauty for Natural goat's milk remedy thus making a great invention and formulation of our best selling product Goat's Don't Lie Liquid Soap line.
Semua Ulasan
Sensitive Skin approved

Jadi aku ini punya kulit sensitive, nama kerennya itu dyshidrotic eczema. Jadi kalau udah mau pergantian musim besar kemungkinan kambuh. Jadi sebelom kambuh duluan aku udah mulai pencegahan salah satunya pake sabun ini tiap kali mandi. Wangi nya (atau baunya) nggak enak emang yg original ini (next mau coba yg tea tree / geranium), kaya apa ya baunya bingung jelasinnya tapi gak terlalu enak lah wkwkwkwk tapi masih bearable koq dan emang ampuh nggak trigger si eksim, jadi sure aku bakalan tetep pake ini