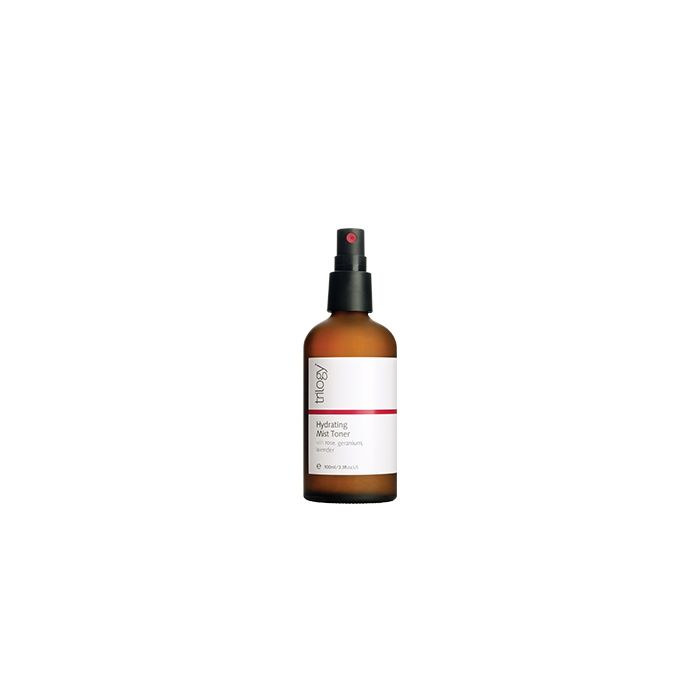 Trilogy Hydrating Mist Toner 100 ml
TRILOGY
Instantly revitalising moisture mist with rose, geranium and lavender.
INSTANTLY REVITALISING MOISTURE MIST
Certified natural floral water blend
Hydrates, tones and refreshes
Use anytime, even over make-upA gentle, aromatic hydration mist delivering instant moisture to thirsty skin of any type. This refreshing and uplifting mist completes any cleansing routine or spritz anytime to cool and uplift. Rose gently tones the skin, helping maintain pH balance. Geranium refreshes and helps relieve stress. Lavender balances and calms while aloe vera cools.
Aqua (Water), Aloe Barbadensis (Aloe Vera) Leaf Juice, Pelargonium Graveolens (Geranium) Oil, Rose Flower Oil, Lavandula Angustifolia (Lavender) Oil, Caprylyl/Capryl Wheat Bran/Straw Glycosides (and) Aqua (and) Fusel Wheat Bran/Straw Glycosides (and) Polyglyceryl-5 Oleate (and) Sodium Glutamate (and) Glyceryl Caprylate, Dehydroacetic Acid (and) Benzyl Alcohol, Geraniol, Citronellol, Linalool, Dehydroacetic Acid (and) Benzyl Alcohol
How To Use
Spray from bottle held at least 30cm from face. Allow mist to dry naturally. Use daily or as often as required, even over make-up.
TRILOGY
Trilogy was founded in 2002 by New Zealand sisters Catherine de Groot and Sarah Gibbs, following their discovery of the skin-loving properties of rosehip oil. Spearheading the development and growth of the natural skincare category, the Trilogy brand has grown from a boutique Australasian operation into an international beauty brand, renowned for its rosehip and natural skincare expertise.Today the Trilogy brand continues its international reputation for producing ethical, sustainable, high-performance natural skincare.
Related Products