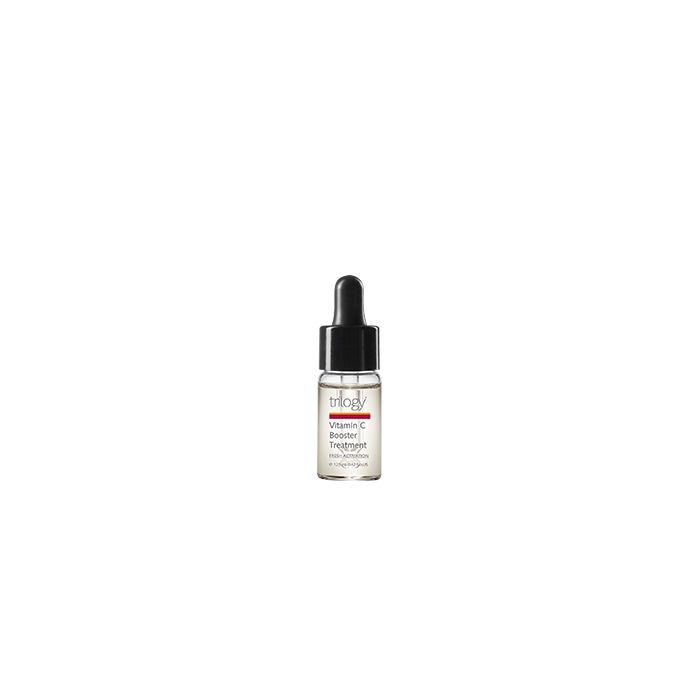 Trilogy Vitamin C Booster Treatment 12.5 ml
TRILOGY
Intense 2-week brightening treatment with 6% high-potency natural vitamin C powder.
Get FREE Vitamin C Booster Travel Size worth IDR 220.000!
Helps improve dull, tired skin and overall radiance.
Aqua (Water), Aloe Barbadensis Leaf Juice, Ascorbic Acid, Bellis Perennis (Daisy) Flower Extract, Citrus Nobilis (Mandarin Orange) Peel Oil, Rose Canina Seed Oil, Sodium Hyaluronate, Caprylyl / Capryl Glucoside, Parfum, Dehydroacetic Acid**, Benzyl Alcohol**, Hydroxycitronellal*, Citronellol*, Limonene*
Size
12.5 ML
How To Use
Press firmly to pop & release fresh, pure vitamin c powder, Shake well to activate your intense 2 weeks treatment, Remove cap & replace with dropper, Apply 3-4 drops to dry clean skin, Twice daily for two consecutive weeks.
TRILOGY
Trilogy was founded in 2002 by New Zealand sisters Catherine de Groot and Sarah Gibbs, following their discovery of the skin-loving properties of rosehip oil. Spearheading the development and growth of the natural skincare category, the Trilogy brand has grown from a boutique Australasian operation into an international beauty brand, renowned for its rosehip and natural skincare expertise.Today the Trilogy brand continues its international reputation for producing ethical, sustainable, high-performance natural skincare.
All Reviews
Pop shake glow

Kulitku juga berasa lebih cerah dan lebih seger gitu kelihatannya. Kulit belangku juga berasa mulai memudar bekasnya. Aku suka juga sama aromanya yang seger ini. Jadi produk ini asrorbic acidnya berbentuk serbuk dan harus di pop dulu biar keluar dan di shake buat ngaktifin vitamin C. Karena sifat vitamin C mudah rusak makannya produk ini harus dihabisin sesegera mungkin.

SERUM VIT C TERBAGUS YANG PERNAH AKU PAKE

Vitamin C serum kedua yg pernah kucoba, wanginya floral dan ga terlalu kecium bau besi khas vit C nya, which is a plus point. Aku habiskan 5mL utk 2 minggu. Resultnya kulit jadi cerahan dan keliatan fresh. Serum ini kayak air jd cair banget dan ga butuh waktu lama utk menyerap di kulit. Gaada tingling atau panas waktu diaplikasikan. PAO jg cepet dan isi produknya dikit, jd ga ditaruh di kulkas pun gpp karena bertahan 2 minggu aja

Kecil-kecil cabe rawit!

Sekalinya pake vitamin c gaakan salah! Apalagi trilogy. Brand nya udah segala cruelty free. Kecil-kecil cabe rawit ini ampuh bgt buat menghilangkan darkspot ku. Teksturnya kentel sih pas di tuang tp pas di aplikasiin blend well with the skin like watery gitu! Seringnya aku pake buat spot treatment sih krn sayang bgt pricey

Sesuka ituuu

Pertama kali menggunakan serum vit c produk lokal kurang sreg aja siih, berasa panas, cekat cekit.. hasilny juga ga kentara.. tapi begitu nyobain trilogy, sukaaa donggg..apalagi beli d CNF, dikasih bonus yg 5 ml juga.. alhasil serumny belum abis aja aku udah mau yg repurchase lagi..

Vitamin C Ternyaman

Pengalaman aku soal Vitamin C itu gak banyak. Tapi sekalinya nyobain Vitamin C dari trilogy aku langsung jatuh cinta. Karena Vitamin c ini seperti gak pakai vitamin c tapi hasilnya keliatan banget. Glowing nya dapat. Cepat ngebaantu menghilangkan bekas jerawat. Dan juga, vitamin c ini gak panas dan gak cekit-cekit pas dipakai. Justru lembab karena ada kandungan Hyaluronic Acid juga. Untuk pemula yang baruuu bangettttt pengen pakai vitamin c, ini Sangat direkomendasikan.
Related Products