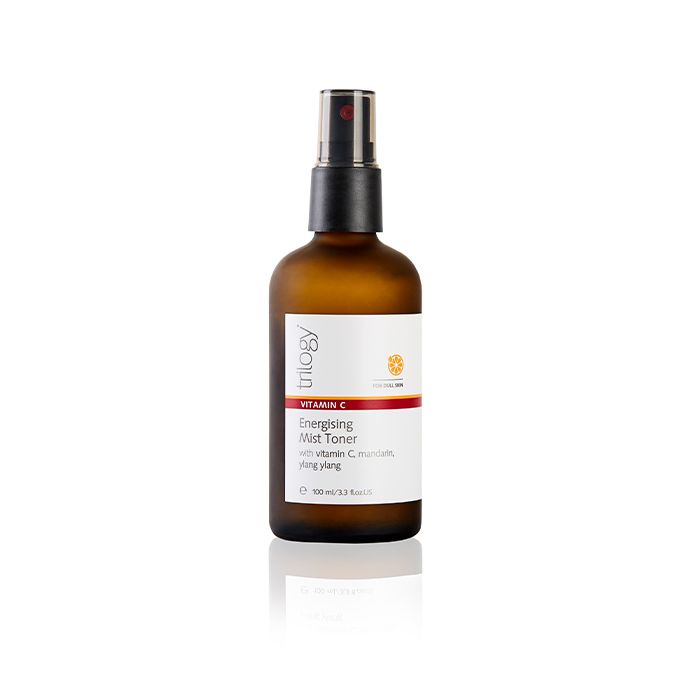 Trilogy Vitamin C Energizing Mist Toner 100 ml
TRILOGY
Instantly refresh and boost skin energy with certified natural citrus water blend to use anytime, even over make-up. Suitable for all skin types, and especially ideal for those looking for a radiance boost and the ultimate in glowing complexion
An uplifting and refreshing mist delivering radiance and hydration to dull skin. Invigorating and energising, it can be used to complete cleansing, or spritzed anytime to freshen and awaken the senses with its unique citrus fragrance. Great for travelling, or for post-workout cool-down, this mist toner is a multi-tasking regime must-have.
Vitamin C (sodium ascorbyl phosphate), mandarin, tangerine, ylang ylang, aloe vera.
How To Use
Spray from bottle held at least 30cm from face. Allow mist to dry naturally. Use daily or as often as required.
TRILOGY
Trilogy was founded in 2002 by New Zealand sisters Catherine de Groot and Sarah Gibbs, following their discovery of the skin-loving properties of rosehip oil. Spearheading the development and growth of the natural skincare category, the Trilogy brand has grown from a boutique Australasian operation into an international beauty brand, renowned for its rosehip and natural skincare expertise.Today the Trilogy brand continues its international reputation for producing ethical, sustainable, high-performance natural skincare.
All Reviews
BEST VIT C TONER

Kulit jadi lembap dan cerah. Wanginya enak banget. Spraynya juga nyaman dan lembut. Packagingnya kaca yang berat, jadi takut pecah.

sooo freshh

Mist toner yang bener-bener bikin muka jadi hydrated , bikin calm, dan cerahin muka juga! Cepat meresap dan wanginya enak kaya herbal floral. Spraynya solid, enak bgt, dan packaging nya burem jadi aman gakena sinar matahari langsung.

MIST TONER

Moisture mist toner dalam bentuk spray yang mampu melembapkan kulit serta mengatasi kulit kusam. Produk ini memiliki kandungan utama vitamin C, mandarin, tangerine, dan ylang-ylang. Vitamin C akan membantu untuk mencerahkan kulit dan mendorong produksi kolagen, mandarin dan tangerine untuk menyegarkan serta berfungsi sebagai antiseptik, yang terakhir ylang-ylang berfungsi untuk menjaga keseimbangan kulit dan mengontrol produksi sebum. Saya suka sama produk ini karena penggunaanya yang super praktis. Cukup spray 2-3x spray, wajah langsung terasa seger banget dan kulit jadi terasa supple! Aroma citrus-nya juga super calming dan soothing at the same time. Produk ini saya gunakan di pagi dan malam hari tepat setelah saya melakukan double cleansing pada wajah. Nah, buat kamu yang penasaran, here are the full ingredients of the product:

Can spray this anytime!

Can't get enough of the smell. So good, citrusy but not too overwhelming. This feels so light on the skin, refreshing without stinging. The mist lands softly on the skin. Tap lightly after spritzing. I like spritzing it on my eyelids, just very lightly, but it may sting a bit, but I like to cover my entire facial area and the neck a bit. Will definitely buy this again, just got to save up as this isn't exactly cheap.

Eeenak bgt!

Aku pake ini setelah cuci muka pagi&malam. Wanginya fresh banget. Dan bikin muka jd lebih lembab juga krn ada aloeveranya. Aku jarang reapply atau jadiin ini sbg sandwich technique krn sayang. Tp kalk pake ini+vit c serumnya digabung hasilnya beuhh bgt! Mencerahkan dan bikin tekstur wajah jg jd lebih membaik.
Related Products