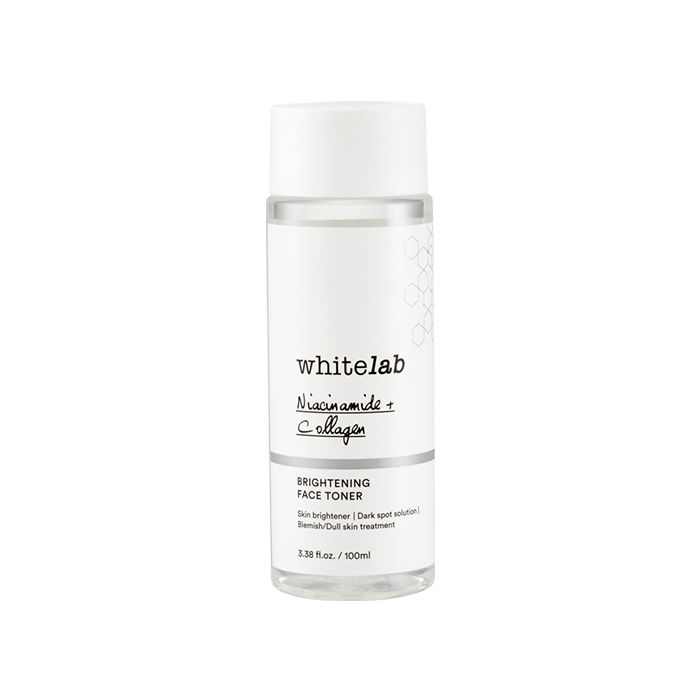 Whitelab Brightening Face Toner 100ml
WHITELAB
In addition to beneficial to moisturize, clean dirt, remove excess oil, and of course refresh your skin, Whitelab Brightening Face Toner also has extra benefits, you know! Function: - Helps lighten the skin - Lifting the rest of the dirt on the face Controlling excess oil production on the face  - Refreshing the face becomes not dull For skin type: All Skin Types. Suitable for Acne Prone & Sensitive Skin.
Powerful Ingredients: Niacinamide: Able to brighten the face & Overcome black spots acne scars, control excess oil, and maintain skin smoothness. Collagen: stimulates the formation of new healthy skin tissue, as well as accelerates the wound healing process so that facial skin can quickly heal from irritation without leaving marks, helps remove acne scars, tightens the skin and maintains skin elasticity to stay youthful. Dermatologically Tested For skin type: All Skin Types. Suitable for Acne Prone & Sensitive Skin. Can be used from the age of 12 years and above. Fill 100 ml BPOM BARCODE: 8997220240779
Size
100 ML
How To Use
Wash your face with Whitelab Facial Wash. After that, drop whitelab toner into cotton wool and apply it to your face.
WHITELAB
POWERED BY SCIENCE, INSPIRED BY BEAUTY. WHITELAB INNOVATES FORMULAS TO DELIVER EFFECTIVE TREATMENT AND VISIBLE RESULTS. Not your ordinary skincare. The fusion of Dermatological Science and Beauty has developed into what the brand represents today through it's high quality formulas and packaging. Our goals is to create effective skincare solutions that gives you great results. ᴡʜɪᴛᴇʟᴀʙ = ᴡʜɪᴛᴇ ʟᴀʙᴏʀᴀᴛᴏʀʏ ᴡʜɪᴛᴇ = ᴄʟᴇᴀɴ ᴄʟᴇᴀɴ = The process is carried out in a hygienic laboratory clean. Be honest in providing information to customers. Clean from harmful content, and have a team of experts in their field.