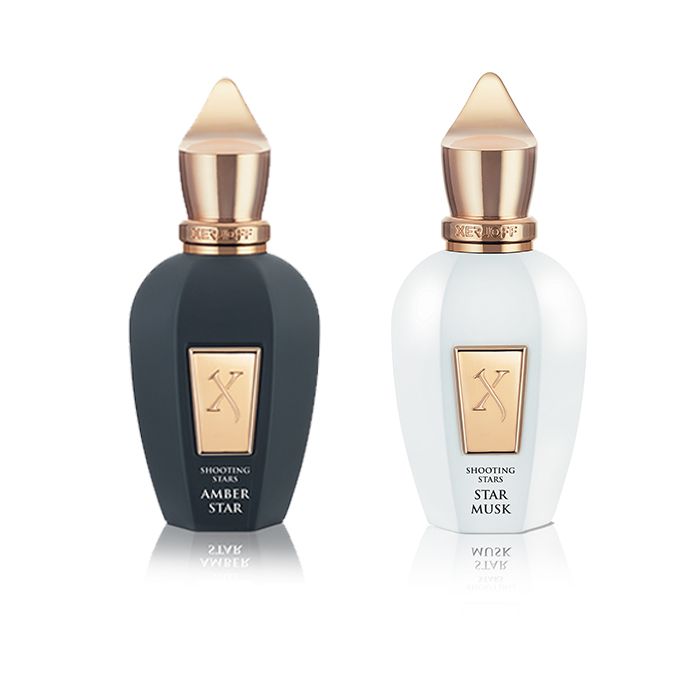 Xerjoff Shooting Stars Amber Star & Star Musk Set EDP 2X50 ml
XERJOFF
Sensual harmony of amber and flowers & smooth musk in blooming floral blend.
Discover the power of harmonious scent with Amber & Musk, a box set of blending perfumes. Designed to be mixed on the skin to create endless combinations, these sensual scents offer a smooth musk in a blooming blend. Amber opens to top notes of cedar and amber with a warming heart of gurjum balasam and base notes of vanilla bourbon and sandalwood. Star takes on a more floral character, with mandarin zest opening into Haitan vetiver, underpinned by musk and vanilla.
AMBER STAR Top Notes: Ylang-ylang, Cedar & Amber Middle Notes: Gurjum Balsam, Guaiac wood Myrrh Base Notes: Vanilla Bourbon, Sandalwood, Benzoin STAR MUSK Top Notes: Mandarin Zest, Floral Notes & Amber Middle Notes: Patchouli, Sandalwood, Haitian Vetiver, Orris Base Notes: Musk, Vanila, Mysore Sandalwood, Benzoin
How To Use
Spray on the body or clothing. Avoid contact with eyes or irritated skin. If occurs, wash with water to clean. Keep away from fire or flame source.
XERJOFF
The XERJOFF brand was launched by Sergio Momo with the aim of blending the most luxurious materials to complement the most affluent global lifestyles.