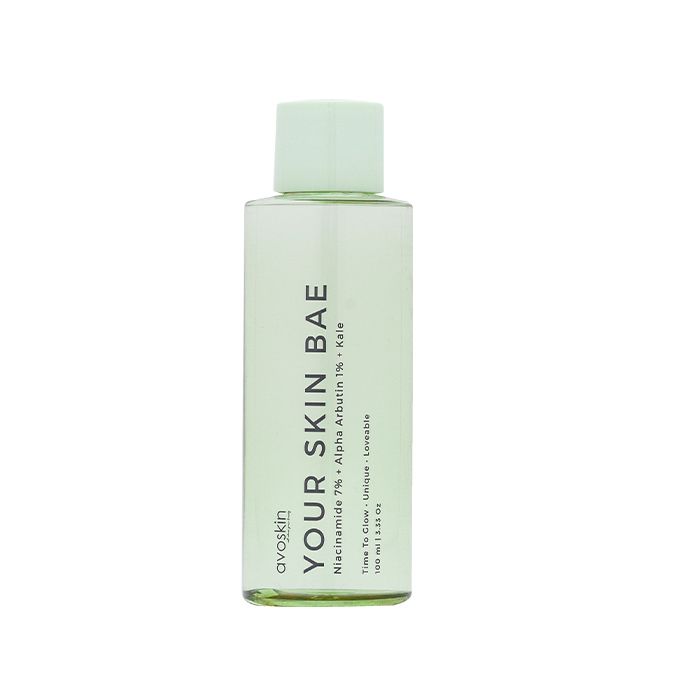 Avoskin Your Skin Bae Toner Niacinamide 7% + Alpha Arbutin 1% + Kale 100 ml
AVOSKIN
Brightening & Hydrating Toner
The combination of active and natural ingredients in Niacinamide 7% + Alpha Arbutin 1% + Kale Time to Glow is useful for brightening the skin, helping to reduce black spots and hydrating the skin optimally, thereby strengthening the skin barrier. Use Niacinamide 7% + Alpha Arbutin 1% + Kale Time to Glow in the morning and evening to perfect your skin care and get the effect of naturally moisturized, bright, and glowing skin.
Water, Propylene glycol, Niacinamide, Glycerin, Alpha-Arbutin, Phenoxyethanol, Hydrolized Vegetable Protein, Chlorphenesin, Disodium EDTA, Xanthan gum, Citric Acid, Sodium Bisulfite.
How To Use
1. Pour into cotton and wipe gently all over the face and neck area (Morning and Night). No need to rinse.
2. Follow the use of your favorite serum and don't forget to use Avoskin The Great Shield for extra protection in the morning.
AVOSKIN
Since it was first established, Avoskin is committed to provide the best products from natural ingredients. Realizing ::Pesona Cantik Alami:: (Natural Beauty) is our mission to desire that natural beauty can be obtained by all women.We believe that everyone has the right to get the best essence of natural wealth. Avoskin continues to innovate by cultivating the benefits of sustainable resources supported by advanced technology to produce valuable products for your daily treatment.